Home - Search - Browse - Alphabetic Index: 0- 1- 2- 3- 4- 5- 6- 7- 8- 9
A- B- C- D- E- F- G- H- I- J- K- L- M- N- O- P- Q- R- S- T- U- V- W- X- Y- Z
---
Tsiklon-2
---
Part of R-36 Family
---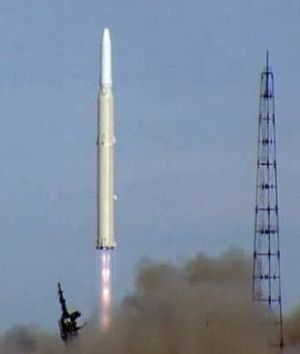 Tsiklon-2
Credit: Ukrainian Space Agency

Ukrainian orbital launch vehicle. A government decree of 24 August 1965 ordered development by Yangel of a version of his R-36 rocket to orbit Chelomei's IS (Istrebitel Sputnik) ASAT and US (Upravlenniye Sputnik) naval intelligence satellites. The Tsyklon 2 definitive operational version replaced the 11K67 launch vehicle from 1969 and was an adaptation of the 8K69 (SS-9) two stage ICBM. The IS and US Raketoplan-derived payloads had their own engines for insertion into final orbit.

AKA: 11K69;F-1;Scarp;SL-11;Tsyklon M. Status: Active. First Launch: 1969-08-06. Last Launch: 2006-06-24. Number: 106 . Payload: 2,820 kg (6,210 lb). Thrust: 2,366.00 kN (531,897 lbf). Gross mass: 182,000 kg (401,000 lb). Height: 39.70 m (130.20 ft). Diameter: 3.00 m (9.80 ft). Apogee: 200 km (120 mi).

LEO Payload: 2,820 kg (6,210 lb) to a 200 km orbit at 65.00 degrees. Launch Price $: 12.000 million in 1994 dollars.
---
More at: Tsiklon-2.
---
Family: orbital launch vehicle. Country: Ukraine. Engines: RD-251, RD-252, RD-861, RD-861K. Spacecraft: US-A, IS-A, IS-P, US-P, Plazma-A, US-PU. Projects: EORSAT, RORSAT. Launch Sites: Baikonur, Baikonur LC90/19, Baikonur LC90/20. Stages: Tsyklon 2-1, Tsyklon 2-2, Tsyklon 2-3. Agency: Yuzhnoye.
---
---
Home - Search - Browse - Alphabetic Index: 0- 1- 2- 3- 4- 5- 6- 7- 8- 9
A- B- C- D- E- F- G- H- I- J- K- L- M- N- O- P- Q- R- S- T- U- V- W- X- Y- Z
---
© 1997-2017 Mark Wade - Contact
© / Conditions for Use
---