Home - Search - Browse - Alphabetic Index: 0- 1- 2- 3- 4- 5- 6- 7- 8- 9
A- B- C- D- E- F- G- H- I- J- K- L- M- N- O- P- Q- R- S- T- U- V- W- X- Y- Z
---
Parus
---
Part of KAUR-1 Family
---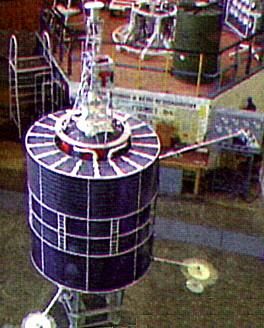 Parus
Tsiklon, its successor, Parus, and Sfera all used the KAUR-1 bus and were similar in appearance.

Russian navigation satellite. Military satellite which provided navigation information and store-dump radio communications to Soviet naval forces and ballistic missile submarines. Navigation, data relay satellite built by NPO Prikladnoi Mekhaniki (NPO PM), Russia. Launched 1974 - 2010. Used KAUR-1 bus.

AKA: 11F627;Tsikada-M;Tsiklon-B. Status: Operational 1974. First Launch: 1974-12-26. Last Launch: 2010-04-27. Number: 100 . Gross mass: 825 kg (1,818 lb).

Experimental flights of equipment components began in 1967, but development was protracted due to the difficulty in developing software that could achieve acceptable positional accuracy levels. Flight trials began in 1974 and the system was finally accepted into military service in 1976.

The overall system was designated Tsiklon-B, replacing the Tsiklon series put into service in the 1960's/ The satellite was designed by Reshetnev; the navigation and control system was by NII Radiopribor (Ivanov, Chief Designer, L I Gusev, Director); with communications systems by MNIIRS MPSS (Nesvist). The Kosmos-3M launch vehicle was used to put individual satellites in orbit. Experimental flights began in 1967 in order to develop a system meeting the required tactical and operational characteristics.

Parus used the basic KAUR-1 bus, consisting of a 2.035 m diameter cylindrical spacecraft body, with solar cells and radiators of the thermostatic temperature regulating system mounted on the exterior. Orientation was by a single-axis magneto-gravitational (gravity gradient boom) passive system. The hermetically sealed compartment had the equipment mounted in cruciform bays, with the chemical batteries protecting the radio and guidance equipment mounted at the center.

The operational satellite constellation consisted of a minimum of six operational satellites, each deployed in one of six planes, spaced 30 degrees apart. Usually one active satellite and one in-space spare was maintained in each plane. Typical lifetime was 18 to 24 months.

The signals were supplemented by the very similar civilian Tsikada system, which was in four planes 45 degrees apart. The satellites transmitted Doppler-shifted VHF transmissions at around 150 and 400 MHz of their position and orbital characteristics. The naval receivers would use this data from several satellites to calculate their position to within 100 m.

Electric System: 0.20 average kW.
---
More at: Parus.
---
Family: Medium earth orbit, Navigation, Technology. Country: Russia. Launch Vehicles: R-14, Kosmos 3, Kosmos 11K65M, R-29, Volna. Launch Sites: Plesetsk, Barents Sea Launch Area, Plesetsk LC132/2, Plesetsk LC132/1, Plesetsk LC133/3. Agency: MO, Reshetnev bureau. Bibliography: 102, 107, 2, 276, 296, 4, 449, 552, 554, 6, 6774, 12943, 12944.
---
Photo Gallery
---
---
Nadezhda
Credit: Manufacturer Image
---
---
Cosmos 2315
Credit: Manufacturer Image
---
---
---
Home - Search - Browse - Alphabetic Index: 0- 1- 2- 3- 4- 5- 6- 7- 8- 9
A- B- C- D- E- F- G- H- I- J- K- L- M- N- O- P- Q- R- S- T- U- V- W- X- Y- Z
---
© 1997-2017 Mark Wade - Contact
© / Conditions for Use
---