Home - Search - Browse - Alphabetic Index: 0- 1- 2- 3- 4- 5- 6- 7- 8- 9
A- B- C- D- E- F- G- H- I- J- K- L- M- N- O- P- Q- R- S- T- U- V- W- X- Y- Z
---
Yantar-4K1
---
Part of Yantar Family
---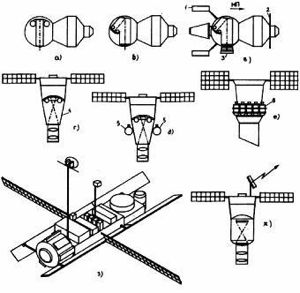 Soviet Reconnsats
Soviet reconnaissance satellites. Top row: Zenit-2, Zenit-4, Advanced Zenit with aerodynamic orientation; Middle Row: Yantar 1K, Yantar 2K, Orlets-1 with multiple return capsules; bottom row, Buran-serviced pallet-based satellite; Yantar 4KS electrooptical

Russian film-return military surveillance satellite. Flight trials of the Yantar-2K indicated the satellite was not capable of providing strategic warning of attack. The high resolution Yantar-4K provided that capability, while still capable of being launched by the existing Soyuz-U launch vehicle. Lifetime was 45 days. Two small capsules could return film an interim basis before the main spacecraft with film returned to earth.

AKA: 11F693;Kobalt;Kobalt-M;Oktant;Oktant, Kobalt-M;Orlets-1. Status: Operational 1979. First Launch: 1979-04-27. Last Launch: 2015-06-05. Number: 104 . Gross mass: 6,600 kg (14,500 lb). Height: 6.30 m (20.60 ft).

A meeting of the Council of Chief Designers at TsSKB in May 1977 reviewed alternative approaches. Three additional variants were to be developed, one of them the high resolution Yantar-4K. The project was to be implemented in two phases: the Yantar-4K1, launched by the existing Soyuz-U launch vehicle, and the Yantar-4K2, to be launched by the new more powerful Zenit launch vehicle.

The Yantar-4K1 would increase the satellite's operational lifetime by 50%, to 45 days, and had an improved camera system, the PO Krasnogorskiy Zavod's Zhemchug-18. The -4K could image targets 60 degrees left or right of the ground track and more film than earlier versions. Externally the spacecraft were difficult to distinguish, and the masses were essentially the same. Therefore the same Soyuz 11A511U rocket and 11S516 payload fairing could be used for the Yantar-4K1.

The project went smoothly and rapidly. The first flight model was ready only two years later. The first launch in the flight trials was in April 1979, for 30 days. A second full-duration flight a year later was also successful, leading to the acceptance test flight in October 1980, also without problem. Yantar-4K1 was accepted into service in 1982 with the code name Oktan. Due to capacity problems as TsKB in Samara, production was handed over to KB Arsenal from 1984.

The Yantar-4K1 ultimately replaced the Zenit reconnaissance satellite series, with the final military flight of the Zenit in October 1980. Zenit civilian models continued in use after the retirement of the Yantar-4K1 (Oblik, Resurs F-1 and F-2). From 1984 Yantar-4K1 was flown for durations of up to 60 days. Launches continued into the 21st Century. Typical orbital profile was: inclination 64.9, 67.1, or 70 degrees with altitude of 170-340 km. Transmission frequency observed in the West was 240.5 PCM-FM.

After 2000, improved Yantar-4K1's were flown, and referred to in the Russian press as Kobalt-M's. The Kobalt code name had been applied originally to the cancelled Yantar-4K2 spacecraft which was to have been launched by the Zenit-2 booster.
---
More at: Yantar-4K1.
---
Family: Military surveillance sat, Surveillance, Surveillance orbit. Country: Russia. Launch Vehicles: R-7, Soyuz-U, Soyuz-U-PVB, Soyuz-2-1A. Launch Sites: Baikonur, Baikonur LC1, Plesetsk, Baikonur LC31, Plesetsk LC41/1, Plesetsk LC43/4, Plesetsk LC43/3, Plesetsk LC16/2. Agency: MOM, Kozlov bureau. Bibliography: 102, 179, 2, 276, 279, 296, 4, 451, 474, 552, 554, 6, 69, 7048, 13364, 13365.
---
Photo Gallery
---
---
Cosmos 2410
Credit: Manufacturer Image
---
---
Yantar-2K
Credit: Manufacturer Image
---
---
---
Home - Search - Browse - Alphabetic Index: 0- 1- 2- 3- 4- 5- 6- 7- 8- 9
A- B- C- D- E- F- G- H- I- J- K- L- M- N- O- P- Q- R- S- T- U- V- W- X- Y- Z
---
© 1997-2017 Mark Wade - Contact
© / Conditions for Use
---