Home - Search - Browse - Alphabetic Index: 0- 1- 2- 3- 4- 5- 6- 7- 8- 9
A- B- C- D- E- F- G- H- I- J- K- L- M- N- O- P- Q- R- S- T- U- V- W- X- Y- Z
---
Raduga-1
---
Part of KAUR-3 Family
---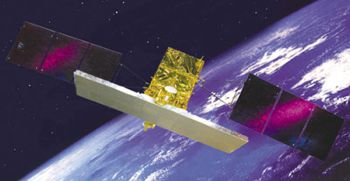 COSMO 3
Credit: Manufacturer Image

Russian communications satellite. The Raduga-1 geosynchronous communications satellite was to have been the basis for the YeSSS-2 second generation Unified Satellite Communication System. Military Communication satellite built by NPO Prikladnoi Mekhaniki (NPO PM), Russia. Launched 1989 - 2009. Used KAUR-3 bus.

AKA: 17F15;Globus. Status: Operational 1989. First Launch: 1989-06-21. Last Launch: 2013-11-11. Number: 11 . Gross mass: 2,000 kg (4,400 lb).

Phase 1 of the system was to have consisted of three Raduga-1 spacecraft. The Raduga-1 was capable of communication not just with fixed earth stations, but mobile platforms as well. It was equipped with the Tor C-band transponder, working at 20, 42, and 44 GHz. Although a later generation system, Raduga-1 still used the KAUR-3 spacecraft bus. This was 3-axis stabilized using liquid propellant micro-engines to within 0.25 degrees of the earth's center. The single-unit body was equipped with solar panels, and active liquid-gas phase-change thermoregulation system, and a corrective engine unit for making orbital adjustments. 25 square meters of solar panels provided 1280 W of power.
---
More at: Raduga-1.
---
Family: Communications, Geosynchronous orbit. Country: Russia. Launch Vehicles: Proton, Proton-K/DM-2, Proton-M/Briz-M. Launch Sites: Baikonur, Baikonur LC81/23, Baikonur LC81/24, Baikonur LC200/39. Agency: MOM, Reshetnev bureau. Bibliography: 102, 2, 274, 296, 449, 552, 554, 6, 67, 13004, 13005.
---
Photo Gallery
---
---
Raduga-1
Credit: Manufacturer Image
---
---
Raduga-1M
Credit: Manufacturer Image
---
---
---
Home - Search - Browse - Alphabetic Index: 0- 1- 2- 3- 4- 5- 6- 7- 8- 9
A- B- C- D- E- F- G- H- I- J- K- L- M- N- O- P- Q- R- S- T- U- V- W- X- Y- Z
---
© 1997-2017 Mark Wade - Contact
© / Conditions for Use
---