Home - Search - Browse - Alphabetic Index: 0- 1- 2- 3- 4- 5- 6- 7- 8- 9
A- B- C- D- E- F- G- H- I- J- K- L- M- N- O- P- Q- R- S- T- U- V- W- X- Y- Z
---
DOS 2-1
---
Part of Salyut Family
---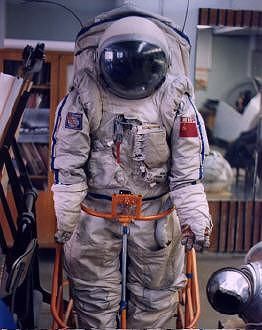 Spacesuit Orlan
Orlan space suit as used on Salyut 7 and Mir space stations.
Credit: Zvezda

Launched: September 1971. Number crew: 3 .
---
---
People: Artyukhin, Voronov, Gubarev, Sevastyanov, Klimuk. Country: Russia. Projects: Salyut.
---
---
1971 June 15 - .
Soyuz Kontakt and DOS-2 crew assignments made. - . Nation: Russia. Related Persons: Alekseyev, Semyon, Artyukhin, Bykovsky, Filipchenko, Gorbatko, Grechko, Gubarev, Isakov, Klimuk, Kolodin, Kovalyonok, Lazarev, Leonov, Makarov, Porvatkin, Rukavishnikov, Sevastyanov, Shcheglov, Vorobyov, Voronov, Yakovlev, Yazdovsky. Program: Salyut, Lunar L3. Flight: DOS 2-1, DOS 2-2, DOS 2-3, DOS 2-4, Soyuz 11, Soyuz 12 / DOS 1, Soyuz sn 18, Soyuz sn 19, Soyuz sn 20, Soyuz sn 21, Soyuz sn 22, Soyuz sn 23. Spacecraft: Salyut 1, Soyuz Kontakt.

Crews are formed for six Soyuz (Kontakt?) flights. Soyuz s/n 18 - Filipchenko and Grechko; Soyuz s/n 19 - Lazarev and Makarov; Soyuz s/n 20 - Vorobyov and Yazdovsky; Soyuz s/n 21 - Yakovlelv and Porvatkin; Soyuz s/n 22 - Kovalyonok and Isakov; Soyuz s/n 23 - Shcheglov and [illegible]. Five crews are training for Salyut flights: Crew 1, Leonov, Rukavishnikov, and Kolodin; Crew 2, Gubarev, Sevastyanov, and Voronov. TsKBEM engineer cosmonauts are to be selected will round out the last three crews, but VVS members will be: Crew 3, Klimuk, Artyukhin; Crew 4, Bykovskyy, Alekseyev; Crew 5, Gorbatko. Leonov and Gubarev will have their crews fully ready for Soyuz 12 by 30 June, for a launch date between 15-20 July. Leonov is asking to go to East Germany for two to three days in the first week of July. Kamanin is fully opposed to this - he is thinkng not of his upcoming flight, but the exhibition of his paintings at the Prezdensk Gallery!
---
---
Home - Search - Browse - Alphabetic Index: 0- 1- 2- 3- 4- 5- 6- 7- 8- 9
A- B- C- D- E- F- G- H- I- J- K- L- M- N- O- P- Q- R- S- T- U- V- W- X- Y- Z
---
© 1997-2017 Mark Wade - Contact
© / Conditions for Use
---