Home - Search - Browse - Alphabetic Index: 0- 1- 2- 3- 4- 5- 6- 7- 8- 9
A- B- C- D- E- F- G- H- I- J- K- L- M- N- O- P- Q- R- S- T- U- V- W- X- Y- Z
---
DMSP Block 5D-3
---
Part of TIROS N Family
---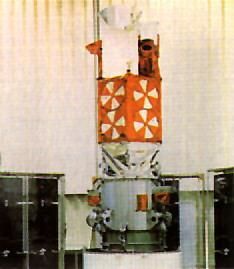 DMSP Block 5D
Credit: USAF

American earth weather satellite.merican earth weather satellite. Military spacecraft similar in design to the civilian NOAA weather satellites. Meteorology satellite built by Lockheed Martin for US Air Force, USA. Launched 1999 - 2014. Used the TIROS-N Bus bus.

Status: Operational 1999. First Launch: 1999-12-12. Last Launch: 2014-04-03. Number: 5 . Gross mass: 1,154 kg (2,544 lb).

The main instrument was the Operational Linescan System (OLS) weather imager. The satellite also carried the SSMIS (microwave imager and sounder), SSULI ultraviolet limb imager, SSUSI ultraviolet spectrographic imager and nadir airglow-photometer, SSI/ES-3 thermal plasma instrument, the SSJ/5 precipitating particle spectrometer, and the SSF laser threat warning sensor.
---
More at: DMSP Block 5D-3.
---
Family: Earth, Earth weathersat, Sun synchronous orbit. Country: USA. Engines: Star 37XFP. Launch Vehicles: Titan, Titan II, Titan II SLV, Atlas V, Atlas V 401, Delta IV, Delta 4M. Projects: DMSP. Launch Sites: Vandenberg, Vandenberg SLC3E, Vandenberg SLC4W, Vandenberg SLC6. Agency: USAF, Aerospace. Bibliography: 2, 552, 554, 12237.
---
Photo Gallery
---
---
DMSP-Block-5D3-F17
Credit: Manufacturer Image
---
---
---
Home - Search - Browse - Alphabetic Index: 0- 1- 2- 3- 4- 5- 6- 7- 8- 9
A- B- C- D- E- F- G- H- I- J- K- L- M- N- O- P- Q- R- S- T- U- V- W- X- Y- Z
---
© 1997-2017 Mark Wade - Contact
© / Conditions for Use
---