Home - Search - Browse - Alphabetic Index: 0- 1- 2- 3- 4- 5- 6- 7- 8- 9
A- B- C- D- E- F- G- H- I- J- K- L- M- N- O- P- Q- R- S- T- U- V- W- X- Y- Z
---
XTE
---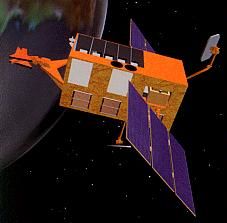 XTE
Credit: NASA

American x-ray astronomy satellite. X-ray Timing Explorer; X-ray astronomy. Astronomy, X-ray satellite for NASA Goddard Space Flight Center, USA. Launched 1995.

AKA: Rossi. Status: Operational 1995. First Launch: 1995-12-30. Last Launch: 1995-12-30. Number: 1 . Gross mass: 3,000 kg (6,600 lb).

NASA NSSDC Master Catalog Description

The X-Ray Timing Explorer (XTE) mission has the primary objective to study the temporal and broad-band spectral phenomena associated with stellar and galactic systems containing compact objects in the energy range 2--200 KeV, and in time scales from microseconds to years. The scientific instruments consists of two pointed instruments, the Proportional Counter Array (PCA) and the High-Energy X-ray Timing Experiment (HEXTE), and the All Sky Monitor (ASM), which scans over 70% of the sky each orbit. All of the XTE observing time will be available to the international scientific community through a peer review of submitted proposals. XTE uses a new spacecraft design that allows flexible operations through rapid pointing, high data rates, and nearly continuous receipt of data at the Science Operations Center at Goddard Space Flight Center via a Multiple Access link to the Tracking and Data Relay Satellite System (TDRSS). XTE is highly maneuverable with a slew rate of greater than 6 degrees per minute. The PCA/HEXTE can be pointed anywhere in the sky to an accuracy of less than 0.1 degree, with an aspect knowledge of around 1 arc-minute. Rotatable solar panels enable anti-sunward pointing to coordinate with ground-based night-time observations. Two pointable high gain antennas maintain nearly continuous communication with the TDRSS. This, together with 1 GB (approximately four orbits) of on-board solid-state data storage, give added flexibility in scheduling observations.
---
More at: XTE.
---
Family: Astronomy, Medium earth orbit, X-ray astronomy satellite. Country: USA. Launch Vehicles: Thor, Delta, Delta 2 7000, Delta 7920-10. Launch Sites: Cape Canaveral, Cape Canaveral LC17A. Agency: NASA. Bibliography: 2, 6, 12005, 13357.
---
Photo Gallery
---
---
XTE
Credit: Manufacturer Image
---
---
---
1995 December 30 - . 13:48 GMT - . Launch Site: Cape Canaveral. Launch Complex: Cape Canaveral LC17A. LV Family: Thor. Launch Vehicle: Delta 7920-10.
XTE - . Payload: Rossi X-ray Timing Explorer. Mass: 3,000 kg (6,600 lb). Nation: USA. Agency: NASA Greenbelt. Class: Astronomy. Type: X-ray astronomy satellite. Spacecraft: XTE. USAF Sat Cat: 23757 . COSPAR: 1995-074A. Apogee: 583 km (362 mi). Perigee: 565 km (351 mi). Inclination: 23.0000 deg. Period: 96.10 min. X-ray Timing Explorer; X-ray astronomy..
---
---
Home - Search - Browse - Alphabetic Index: 0- 1- 2- 3- 4- 5- 6- 7- 8- 9
A- B- C- D- E- F- G- H- I- J- K- L- M- N- O- P- Q- R- S- T- U- V- W- X- Y- Z
---
© 1997-2017 Mark Wade - Contact
© / Conditions for Use
---