Home - Search - Browse - Alphabetic Index: 0- 1- 2- 3- 4- 5- 6- 7- 8- 9
A- B- C- D- E- F- G- H- I- J- K- L- M- N- O- P- Q- R- S- T- U- V- W- X- Y- Z
---
KOMPSAT
---
Part of T200 Family
---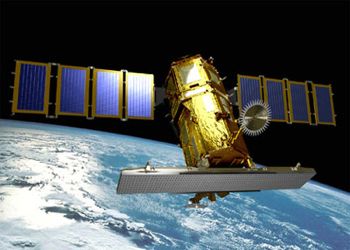 Arirang-5
Credit: Manufacturer Image

South Korean technology satellite. KOMPSAT was the first joint spacecraft development project for the South Korean aerospace agency KARI (Korea Aerospace Research Institute). Earth Observing satellite built by KARI, TRW (Bus) for KARI, Korea South. Launched 1999. Used the T200B bus.

AKA: Arirang;Korea Multi-Purpose Satellite. Status: Operational 1999. First Launch: 1999-12-21. Last Launch: 2015-03-25. Number: 4 . Gross mass: 470 kg (1,030 lb).

TRW and Korean engineers worked together to develop the spacecraft.

The payload consisted of several scientific instruments as well as a Ka-band communications device. KOMPSAT was based on TRW's Eagle class of light weight, modular spacecraft. It had 3-axis stabilization with dual solar arrays. The payload included a 10 m resolution CCD imaging system supplied by Litton Itek Optical Systems. TRW supplied a low resolution camera for ocean and Earth resources monitoring. Other scientific instruments included a device to measure Earth's ionospheric and magnetic fields and a high-energy particle detector.

TRW signed the $ 32 million contract to develop the satellite on 19 September 1994.
---
More at: KOMPSAT.
---
Family: Communications technology sat, Earth, Sun synchronous orbit, Surveillance, Technology. Country: Korea South. Launch Vehicles: Taurus, Dnepr, Taurus 2110, H-IIA 202. Launch Sites: Vandenberg, Vandenberg 576E, Tanegashima Y. Agency: KARI, TRW. Bibliography: 2, 552, 554, 6, 6633, 12737, 12738, 12739.
---
Photo Gallery
---
---
KOMPSAT
Credit: Manufacturer Image
---
---
Arirang-3A
Credit: Manufacturer Image
---
---
---
Home - Search - Browse - Alphabetic Index: 0- 1- 2- 3- 4- 5- 6- 7- 8- 9
A- B- C- D- E- F- G- H- I- J- K- L- M- N- O- P- Q- R- S- T- U- V- W- X- Y- Z
---
© 1997-2017 Mark Wade - Contact
© / Conditions for Use
---