Home - Search - Browse - Alphabetic Index: 0- 1- 2- 3- 4- 5- 6- 7- 8- 9
A- B- C- D- E- F- G- H- I- J- K- L- M- N- O- P- Q- R- S- T- U- V- W- X- Y- Z
---
KOMPSAT-2
---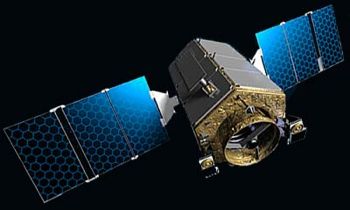 Kompsat 2
Credit: Manufacturer Image

South Korean civilian surveillance satellite. Kompsat 2. Earth Observing satellite built by KARI, Astrium for KARI, Korea South. Launched 2006.

Status: Operational 2006. First Launch: 2006-07-28. Last Launch: 2006-07-28. Number: 1 . Gross mass: 798 kg (1,759 lb).

The KOMPSAT-2 (Korea Multi-Purpose Satellite 2) was an indigenous Korean satellite designed to carry scientific instruments for observation of natural resources, digital map-making and atmospheric research, and high resolution imaging from a orbit of 685 km above the earth. The Korea Aerospace Research Institute contracted for launch of the satellite on a Chinese CZ-2C booster from Xichang in April 2004.
---
More at: KOMPSAT-2.
---
Family: Civilian surveillance satellite, Communications, Sun synchronous orbit, Surveillance. Country: Korea South. Launch Vehicles: UR-100N, Chang Zheng 2C, Rokot. Launch Sites: Plesetsk, Plesetsk LC133/3. Agency: KARI. Bibliography: 2, 6634, 12740.
---
---
2006 July 28 - . 07:05 GMT - . Launch Site: Plesetsk. Launch Complex: Plesetsk LC133/3. LV Family: UR-100N. Launch Vehicle: Rokot.
Kompsat 2 - . Payload: Arirang-2. Mass: 798 kg (1,759 lb). Nation: Korea South. Agency: KARI. Manufacturer: EADS Astrium. Class: Communications. Type: Civilian communications satellite. Spacecraft: KOMPSAT-2. USAF Sat Cat: 29268 . COSPAR: 2006-031A. Apogee: 701 km (435 mi). Perigee: 676 km (420 mi). Inclination: 98.1000 deg. Period: 98.50 min. Carried a 1-meter-resolution Earth surveillance camera...
---
---
Home - Search - Browse - Alphabetic Index: 0- 1- 2- 3- 4- 5- 6- 7- 8- 9
A- B- C- D- E- F- G- H- I- J- K- L- M- N- O- P- Q- R- S- T- U- V- W- X- Y- Z
---
© 1997-2017 Mark Wade - Contact
© / Conditions for Use
---