Home - Search - Browse - Alphabetic Index: 0- 1- 2- 3- 4- 5- 6- 7- 8- 9
A- B- C- D- E- F- G- H- I- J- K- L- M- N- O- P- Q- R- S- T- U- V- W- X- Y- Z
---
Zenit-3SLB
---
Part of Zenit Family
---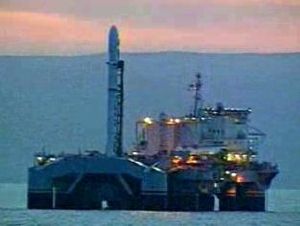 Sea Launch
Credit: Ukrainian Space Agency

Ukrainian orbital launch vehicle. Version of the Zenit-3SL modified for launch from existing ground facilities at Baikonur, using the common Zenit-2SB core vehicle with an upper stage Block DM-SLB designed by RSC Energia (Russia) and a new payload fairing designed by NPO Lavochkin (Russia).

AKA: J-1e. Status: Active. First Launch: 2008-04-28. Last Launch: 2013-08-31. Number: 6 . Payload: 3,750 kg (8,260 lb). Thrust: 7,300.00 kN (1,641,100 lbf). Gross mass: 471,000 kg (1,038,000 lb). Height: 59.60 m (195.50 ft). Diameter: 3.90 m (12.70 ft).

The Sea Launch Board of Directors voted on September 30, 2003, to offer launch services from Baikonur Cosmodrome in Kazakhstan, in addition to its sea-based launches at the Equator. The new offering, Land Launch, was based on the collaboration of Sea Launch Company and Space International Services, of Russia, to meet the launch needs of commercial customers with medium weight satellites.

The Land Launch system uses a version of the Sea Launch Zenit-3SL rocket, the Zenit 3SLB, to lift commercial satellites in the 2,000 to 3,500-kilogram range to GTO and heavier payloads to inclined or lower orbits. The three stages on the Zenit 3SLB were the same as those on the Sea Launch Zenit-3SL, with the only significant difference between two being the fairing. A two-stage configuration of the same rocket, the Zenit 2SLB, was also available for launching heavy payloads, or groups of payloads, to LEO. Payloads and vehicles would be processed and launched from existing Zenit facilities at the Baikonur launch site. The first Land Launch mission, carrying the PAS-11 satellite for PanAmSat, was scheduled for the second quarter of 2007.12 Expanding on its Sea Launch marketing efforts, Boeing Launch Services, Inc., managed marketing and sales for this new offering.

Payload: 3,750 kg (8,260 lb) to a GEO.
---
More at: Zenit-3SLB.
---
Family: orbital launch vehicle, ship-launched. Country: Ukraine. Spacecraft: FS-1300, AMOS, Star bus. Launch Sites: Baikonur, Baikonur LC45/1, Baikonur LC45. Stages: Zenit-A, Zenit-B, Zenit-V. Agency: Yuzhnoye.
---
---
Home - Search - Browse - Alphabetic Index: 0- 1- 2- 3- 4- 5- 6- 7- 8- 9
A- B- C- D- E- F- G- H- I- J- K- L- M- N- O- P- Q- R- S- T- U- V- W- X- Y- Z
---
© 1997-2017 Mark Wade - Contact
© / Conditions for Use
---