Home - Search - Browse - Alphabetic Index: 0- 1- 2- 3- 4- 5- 6- 7- 8- 9
A- B- C- D- E- F- G- H- I- J- K- L- M- N- O- P- Q- R- S- T- U- V- W- X- Y- Z
---
Shenzhou 5
---
Part of Shenzhou Family
---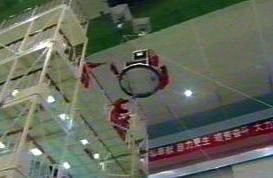 Shenzhou 5
Shenzhou 5 in assembly, photo released August 2003. Notice the workers wearing surgical masks, indicating that the photo was perhaps taken during the SARS outbreak.

First Chinese man in space. Highly conservative mission. Single astronaut stayed in the re-entry capsule for the entire 21-hour mission, and did not enter the orbital module.

Launched: 2003-10-15. Returned: 2003-10-15. Number crew: 1 . Duration: 0.89 days.

China's first manned spaceflight began with the lift-off of the CZ-2F booster into the clear blue morning sky. All went according to plan and China's first man in space, Yang Liwei, entered an initial 200 km x 343 km orbit ten minutes after launch. The naval vessels standing buy for rescue in the Sea of Japan were called back to port.

The highly conservative mission plan was for Yang to remain in the Shenzhou re-entry capsule for the entire 21-hour mission, and not to enter the orbital module. He had two rest periods of three hours each, and was scheduled to eat once or twice meals of what was said to be a superior form of Chinese space food. Frequent communications sessions, including color television links to the spacecraft, were made possible by China's four tracking ships deployed in the oceans of the world.

As the spacecraft was in its 21st orbit, the orbital module separated. It would stay in the 343 km orbit for a planned six-month military imaging reconnaissance mission. Retrofire was commanded via a tracking ship in the Atlantic off the coast of Africa. Shenzhou-5 landed only 4.8 km from the aim-point in Inner Mongolia with the parachute being sighted by the ground recovery forces prior to landing. Yang landed after 21 hours 23 minutes aloft.

Shenzhou-5 Chronology
January-March 2003: First details concerning the impending manned flight were leaked or officially stated. It was to occur by the end of the year. Hong Kong papers indicated the astronaut would be 'Chen Lang' (later confirmed to be Lin Qongling, one of the two astronauts trained in Russia in 1998-1999). A very specific official description was given of the military imaging reconnaissance system that would be flown on the spacecraft.
T-100 days: July 21, 2003: First reports on timing of the launch set the date as 'within 100 days' (by end October 2003)
T-60 days: August 15: Reports indicate that the mission will last a week, that three astronauts will be selected for the flight shortly before the launch, and that a single astronaut will be selected on the day of the launch
T-50 days: August 23: The CZ-2F booster was shipped from the factory to the launch site in Jiuquan. The Shenzhou-5 spacecraft was said to already be at Jiuquan by this date
T-30 Days: September 15: Reportedly the launch was set for October 10-15. Integration of the Shenzhou spacecraft and CZ-2F launch vehicle was reportedly going smoothly. However official sources indicated that safety was paramount and the launch date would be driven by safety considerations, not an absolute deadline.
T-25 days: September 20: The 14 astronauts started exercising in the real Shenzhou-5 spacecraft at the Jiuquan Launch Centre.
T-15 Days: September 29: First press reports that state that the entire Chinese astronaut team had arrived at Jiuquan in preparation for the flight.
T-10 Days: October 5: Reports say that the launch is set for October 15 at the earliest, and that the flight will be made by only one astronaut for a one day duration.
T-7 Days: October 8: Reports again say that the launch is set for October 15 at the earliest, and that the flight will be made by only one astronaut for only a single orbit of the earth. The only payload aboard the capsule will be 2200 g of seeds.
T-2 Days: October 13: Reports place the launch between October 15 and 17, and say it will be a 14-orbit, 21 hour flight. Hong Kong press sources repeat information released in January 2003, that Li Qinglong will be the first Chinese astronaut.
T-1 Day: October 14: Reports name three candidates for the launch. Yang Liwei will be the first Chinese citizen in space. He beat out the other two finalists - Zhai Zhigang, and Nie Haisheng. It is announced that the launch will not be televised live. The launch center and tracking network conducted an exercise between 5 am and 8:30 am local time in preparation for the launch.
Lift-off: October 15, 2003, 01:00 GMT, 09:00 Beijing time: China's first manned spaceflight lifts off on into the clear blue sky on the first launch attempt.
01:10 GMT - Shenzhou-5 enters initial 200 x 343 km orbit.
01:40 GMT - "I feel good," Yang radios from the capsule, with a color video feed. Loud applause in Mission Control in response.
02:30 GMT - Yang begins first three-hour rest period.
07:57 GMT - Shenzhou-5 circularizes orbit to 343 km.
09:30 GMT - Yang has communication session with General Cao Gangchuan, China's Defence Minister and Vice Chairman of the Central Military Commission.
12:00 GMT - Yang has communication session with his wife and son. "It looks extremely splendid up here", he says. Live video is relayed from capsule and Yang again confirms to General Cao that he is feeling fine. "I will strive to complete my tasks well and ensure the full success of the mission," Yang intones. He displays the Chinese and United Nations flags to emphasize the peaceful nature of the mission.
15:00 GMT - Yang begins second three-hour rest period.
21:35 GMT - Command radioed to initiate re-entry.
21:36 GMT - Orbital module separates and remains in 343 km circular orbit.
21:38 GMT - Retrofire begins.
21:59 GMT - Service module separates from re-entry capsule. It will burn-up and disintegrate as the re-entry module continues into the lower atmosphere.
22:00 GMT - Re-entry capsule enters Chinese territory.
22:04 GMT - Re-entry capsule enters communications blackout due to sheath of ionized air around the capsule.
22:07 GMT - Re-entry capsule exits communications blackout. Recovery helicopters receive signal allowing them to estimate landing point.
22:23 GMT - Re-entry capsule soft-lands 4.8 km from aim point and 7.5 km from recovery vehicles.
22:28 GMT - Capsule sighted by rescue team. It is just 06:28 local time and the sun is just rising.
22:36 GMT - Rescue team arrives at capsule.
22:51 GMT - Yang exits from capsule and is mobbed by rescuers and press.
23:40 GMT - After a medical examination, Yang enters a helicopter for the flight to Beijing.
---
More at: Shenzhou 5.
---
Family: Manned spaceflight. People: Yang Liwei. Country: China. Spacecraft: Shenzhou. Launch Sites: Jiuquan. Agency: PLAAF.
---
Photo Gallery
---
---
Shenzhou 5
At moment of firing of soft landing rocket
---
---
Shenzhou 5
Landing site during recovery operations
---
---
---
---
---
2003 October 15 - . 01:00 GMT - . Launch Site: Jiuquan. Launch Complex: Jiuquan SLS. LV Family: CZ. Launch Vehicle: Chang Zheng 2F.
Shenzhou 5 - . Crew: Yang Liwei. Backup Crew: Zhai Zhigang. Support Crew: Nie Haisheng. Mass: 7,840 kg (17,280 lb). Nation: China. Related Persons: Nie Haisheng, Yang Liwei, Zhai Zhigang. Agency: PLAAF. Manufacturer: CALT. Class: Manned. Type: Manned spacecraft. Flight: Shenzhou 5. Spacecraft: Shenzhou. Duration: 0.89 days. Decay Date: 2003-10-16 . USAF Sat Cat: 28043 . COSPAR: 2003-045A. Apogee: 336 km (208 mi). Perigee: 332 km (206 mi). Inclination: 42.4192 deg. Period: 91.20 min.

China's first manned spaceflight began with the lift-off of the CZ-2F booster into the clear blue morning sky. All went according to plan and China's first man in space, Yang Liwei, entered an initial 200 km x 343 km orbit ten minutes after launch. The naval vessels standing buy for rescue in the Sea of Japan were called back to port.

The highly conservative mission plan was for Yang to remain in the Shenzhou re-entry capsule for the entire 21-hour mission, and not to enter the orbital module. He had two rest periods of three hours each, and was scheduled to eat once or twice meals of what was said to be a superior form of Chinese space food. Frequent communications sessions, including colour television links to the spacecraft, were made possible by China's four tracking ships deployed in the oceans of the world.

As the spacecraft was in its 21st orbit, the orbital module separated. It would stay in the 343 km orbit for a planned six-month military imaging reconnaissance mission. Retrofire was commanded via a tracking ship in the Atlantic off the coast of Africa. Shenzhou-5 landed only 4.8 km from the aim-point in Inner Mongolia with the parachute being sighted by the ground recovery forces prior to landing. Yang landed after 21 hours 23 minutes aloft.
---
---
Home - Search - Browse - Alphabetic Index: 0- 1- 2- 3- 4- 5- 6- 7- 8- 9
A- B- C- D- E- F- G- H- I- J- K- L- M- N- O- P- Q- R- S- T- U- V- W- X- Y- Z
---
© 1997-2017 Mark Wade - Contact
© / Conditions for Use
---