Home - Search - Browse - Alphabetic Index: 0- 1- 2- 3- 4- 5- 6- 7- 8- 9
A- B- C- D- E- F- G- H- I- J- K- L- M- N- O- P- Q- R- S- T- U- V- W- X- Y- Z
---
Orlan
---
Part of Krechet
---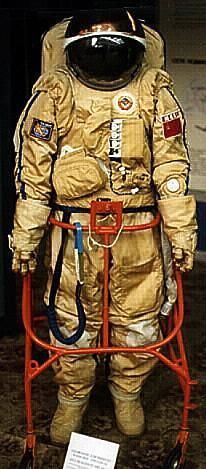 Orland-D
Credit: © Mark Wade
Russian space suit. The Orlan spacesuit was used for Russian EVA's on Salyut, Mir, and the International Space Station. It was designed by the Zvezda OKB, and derived from the Kretchet suit intended for use on the lunar surface.
AKA: Radioscaf;Suitsat. Status: Operational 1978. First Launch: 1998-11-20. Last Launch: 1998-11-20. Number: 1 .
It consisted of flexible limbs attached to a one-piece rigid body / helmet unit. The suit was entered through a hatch in the rear of the torso. The exterior of the hatch housed the life support equipment. Maximum operation time was three hours when the Orlan-D version of the suit was first used on Salyut 6. Later Orlan-DM versions of the suit increased this period to nine hours. The integrated design meant that no external hoses were required as in the American space suits. The suit standard pressure was 0.40 atmospheres, so that a prebreathe period of only 30 minutes was required. Electrical power and communications were via an umbilical cord to the station. Control of the suit was via a panel on the chest, with the markings in mirror image. The cosmonaut viewed the panel using a mirror on the wrist of the suit.
---
---
Family
:
Communications
,
Space Suits
.
Country
:
Russia
.
Launch Vehicles
:
Proton
,
Proton-K
.
Agency
:
Zvezda Design Bureau
.
Bibliography
:
376
.
---
Photo Gallery
---
---
Orlan-DM
Credit: Zvezda
---
---
Orlan-DM
Credit: Zvezda
---
---
Orlan space suit
Credit: David van der Ven
---
---
Orlan Drawing
Credit: NASA
---
---
Orlan DM Spacesuit
Orlan DM spacesuit used on Mir.
Credit: Andy Salmon
---
---
Spacesuit Orlan
Orlan space suit as used on Salyut 7 and Mir space stations.
Credit: Zvezda
---
---
Orlan space suit
Credit: © Mark Wade
---
---
Mir EVA
Mir EVA - Solar Panel
Credit: RKK Energia
---
---
---
1968 March 20 -
.
Lunar spacesuit review. - . Nation: Russia. Related Persons: Mishin, Severin. Program: Lunar L3. Spacecraft: Krechet, LK, Luna Ye-8, Orlan.

Meeting with Gay Ilyich Severin. Two spacesuits are being developed for the L3 program: the Krechet-94 and Orlan. Both have been in development for two years. The Krechet-94 will allow six hours of lunar surface activity, the Orlan, 2.5 hours. Both weigh about 90 kg. There are consumables for a total of 52 hours of life support in the LK and the LT Lunar Cart. Kamanin feels the suits are too heavy, due to Mishin's demand for a 5 km range from the LK over a three day traverse with the LT. Severin could have instead developed the spacesuit used by Leonov to have a four hour autonomous operation, but Mishin insisted on doubling of the capacity.
---
2011 August 3 -
. 18:43 GMT - .
Launch Platform
: ISS.
Radioscaf-B - . Payload: Suitsat. Nation: Russia. Class: Communications. Type: Communications satellite. Spacecraft Bus: Krechet. Spacecraft: Orlan. Decay Date: 2012-01-04 . USAF Sat Cat: 37772 . COSPAR: 1998-067CK. Apogee: 352 km (218 mi). Perigee: 345 km (214 mi). Inclination: 51.60 deg. Period: 91.50 min. Used Orlan spacesuit equipped with a radio transmitter. Released during an ISS EVA and transmitted for two days in a separate orbit. The astronauts shoved it into space with the words "Goodbye, Mr Smith.".
---
---
Back to top of page
---
Home - Search - Browse - Alphabetic Index: 0- 1- 2- 3- 4- 5- 6- 7- 8- 9
A- B- C- D- E- F- G- H- I- J- K- L- M- N- O- P- Q- R- S- T- U- V- W- X- Y- Z
---
© 1997-2019 Mark Wade - Contact
© / Conditions for Use
---