Home - Search - Browse - Alphabetic Index: 0- 1- 2- 3- 4- 5- 6- 7- 8- 9
A- B- C- D- E- F- G- H- I- J- K- L- M- N- O- P- Q- R- S- T- U- V- W- X- Y- Z
---
Meteor-M
---
Part of Meteor Family
---
---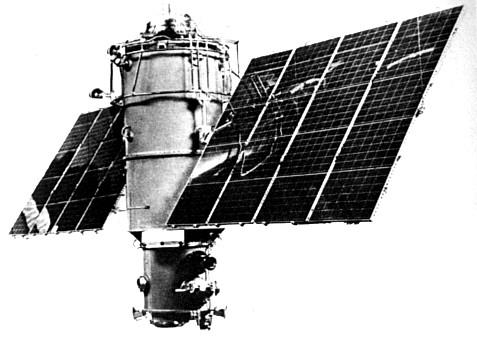 Meteor
Meteor satellite. Meteor-M and Meteor-Priroda were similar.
---
New-generation Russian weather satellite, successor to the Meteor-3M, with new electronics and designed for launch by the Soyuz ST launch vehicle rather than the discontinued Tsiklon-3 and non-Russian Zenit-2. Meteorology satellite built by NPP VNIIEM, Russia. Launched 2009 - 2014.

Status: Operational 2009. First Launch: 2009-09-17. Last Launch: 2009-09-17. Number: 1 . Gross mass: 2,700 kg (5,900 lb).

A series of three satellites was planned to revitalize Russian independent weather-forecasting capabilities, but the first one encountered severe technical problems.
---
More at: Meteor-M.
---
Family: Earth, Earth weathersat, Medium earth orbit. Country: Russia. Launch Vehicles: R-7, Soyuz-2-1B, Soyuz ST / Fregat ST. Launch Sites: Baikonur, Baikonur LC1, Baikonur LC31. Bibliography: 6702, 12828.
---
Photo Gallery
---
---
Meteor-M
Credit: Manufacturer Image
---
---
---
2009 September 17 - . 15:55 GMT - . Launch Site: Baikonur. Launch Complex: Baikonur LC31. LV Family: R-7. Launch Vehicle: Soyuz-2-1B.
Meteor-M - . Mass: 2,700 kg (5,900 lb). Nation: Russia. Agency: RKA. Class: Earth. Type: Weather satellite. Spacecraft Bus: Meteor. Spacecraft: Meteor-M. USAF Sat Cat: 35865 . COSPAR: 2009-049A. Apogee: 820 km (500 mi). Perigee: 818 km (508 mi). Inclination: 98.8000 deg. Period: 101.30 min.

First Meteor-M satellite. This replaced the Meteor-3M satellite, with new generation weather instruments. Plagued with problems: the infrared sensor cooling broke down, an antenna did not deploy properly, camera mirrors were degraded by vibration, imagery was not delivered in a usable rectified format.
---
---
Home - Search - Browse - Alphabetic Index: 0- 1- 2- 3- 4- 5- 6- 7- 8- 9
A- B- C- D- E- F- G- H- I- J- K- L- M- N- O- P- Q- R- S- T- U- V- W- X- Y- Z
---
© 1997-2017 Mark Wade - Contact
© / Conditions for Use
---