Home - Search - Browse - Alphabetic Index: 0- 1- 2- 3- 4- 5- 6- 7- 8- 9
A- B- C- D- E- F- G- H- I- J- K- L- M- N- O- P- Q- R- S- T- U- V- W- X- Y- Z
---
Jupiter nose cone
---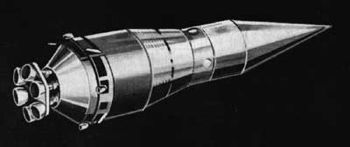 Saturn 5
Credit: Manufacturer Image

American re-entry vehicle technology satellite. Saturn 5. Launch vehicle test.

Status: Operational 1964. First Launch: 1964-01-29. Last Launch: 1964-01-29. Number: 1 . Gross mass: 17,100 kg (37,600 lb).
---
More at: Saturn-sa-5.
---
Family: Re-entry vehicle technology satellite, Technology. Country: USA. Launch Vehicles: Saturn I. Projects: Apollo. Launch Sites: Cape Canaveral, Cape Canaveral LC37B. Agency: NASA. Bibliography: 16, 2, 26, 27, 6, 12708.
---
---
1964 January 29 - . 16:25 GMT - . Launch Site: Cape Canaveral. Launch Complex: Cape Canaveral LC37B. Launch Vehicle: Saturn I.
Saturn 5 - . Payload: Saturn-SA 5. Mass: 17,100 kg (37,600 lb). Nation: USA. Agency: NASA Huntsville. Program: Apollo. Class: Technology. Type: Re-entry test vehicle. Spacecraft: Jupiter nose cone. Decay Date: 1966-04-30 . USAF Sat Cat: 744 . COSPAR: 1964-005A. Apogee: 740 km (450 mi). Perigee: 274 km (170 mi). Inclination: 31.4000 deg. Period: 94.80 min.

First first mission of Block II Saturn with two live stages. SA-5, a vehicle development flight, was launched from Cape Kennedy Complex 37B at 11:25:01.41, e.s.t. This was the first flight of the Saturn I Block II configuration (i.e., lengthened fuel tanks in the S-1 and stabilizing tail fins), as well as the first flight of a live (powered) S-IV upper stage. The S-1, powered by eight H-1 engines, reached a full thrust of over 680,400 kilograms (1.5 million pounds) the first time in flight. The S-IV's 41,000 kilogram (90,000-pound-thrust cluster of six liquid-hydrogen RL-10 engines performed as expected. The Block II SA-5 was also the first flight test of the Saturn I guidance system.
---
---
Home - Search - Browse - Alphabetic Index: 0- 1- 2- 3- 4- 5- 6- 7- 8- 9
A- B- C- D- E- F- G- H- I- J- K- L- M- N- O- P- Q- R- S- T- U- V- W- X- Y- Z
---
© 1997-2017 Mark Wade - Contact
© / Conditions for Use
---