Home - Search - Browse - Alphabetic Index: 0- 1- 2- 3- 4- 5- 6- 7- 8- 9
A- B- C- D- E- F- G- H- I- J- K- L- M- N- O- P- Q- R- S- T- U- V- W- X- Y- Z
---
GPS Block 2F
---
Part of Navstar Family
---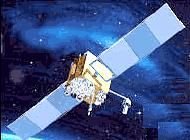 GPS Block 2F
Credit: USAF

American navigation satellite. Block IIF satellites were the fourth generation of the Navstar satellite, launched from 2010.05.28.

AKA: Global Positioning System;Navstar. Status: Operational 2010. First Launch: 2010-05-28. Last Launch: 2015-10-31. Number: 11 . Gross mass: 1,545 kg (3,406 lb). Height: 3.93 m (12.89 ft). Span: 13.11 m (43.01 ft).

Improvements included an extended design life of 12 years, faster processors with more memory, and a new civil signal on a third frequency. The first Block IIF satellite was scheduled to launch in 2005.

In 1996 Boeing was selected for a contract with options for up to 33 Block IIF satellites. In 2001 the contract was revised to produce 12 modernized Block IIF satellites.

Electric System: 2.40 average kW.
---
More at: Navstar-2f.
---
Family: Medium earth orbit, Navigation. Country: USA. Launch Vehicles: Atlas V, Atlas V 401, Delta 4M+(4,2), Delta IV. Launch Sites: Cape Canaveral LC17B, Cape Canaveral LC37B, Cape Canaveral LC41. Agency: USAF. Bibliography: 12514.
---
Photo Gallery
---
---
USA 258
Credit: Manufacturer Image
---
---
---
Home - Search - Browse - Alphabetic Index: 0- 1- 2- 3- 4- 5- 6- 7- 8- 9
A- B- C- D- E- F- G- H- I- J- K- L- M- N- O- P- Q- R- S- T- U- V- W- X- Y- Z
---
© 1997-2017 Mark Wade - Contact
© / Conditions for Use
---