Home - Search - Browse - Alphabetic Index: 0- 1- 2- 3- 4- 5- 6- 7- 8- 9
A- B- C- D- E- F- G- H- I- J- K- L- M- N- O- P- Q- R- S- T- U- V- W- X- Y- Z
---
Zeya
---
Part of Strela Family
---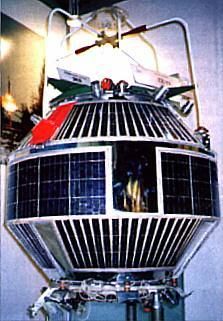 Strela-1M

Russian earth geodetic satellite. The Zeya satellite was used for navigation and geodesy tests from a sun-synchronous orbit.

Status: Operational 1997. First Launch: 1997-03-04. Last Launch: 1997-03-04. Number: 1 .

Also known as Mozhaets, the satellite was designed by students of the Mozhaiskiy military space engineering academy and built at NPO-PM. It used the obsolete Strela-1M satellite bus. It was the payload for the first launch from Russia's Svobodniy cosmodrome.
---
---
Family: Communications, Earth, Earth geodetic sat, Sun synchronous orbit. Country: Russia. Launch Vehicles: Topol', Start-1, Start-1.2. Launch Sites: Svobodniy, Svobodniy LC5. Agency: MO, Reshetnev bureau. Bibliography: 2, 4, 449.
---
Photo Gallery
---
---
Zeya
Credit: Manufacturer Image
---
---
---
1997 March 4 - . 02:00 GMT - . Launch Site: Svobodniy. Launch Complex: Svobodniy LC5. LV Family: Topol'. Launch Vehicle: Start-1.2.
Zeya - . Payload: Zeya No. 1. Nation: Russia. Agency: MO. Manufacturer: Reshetnev bureau. Class: Communications. Type: Military communications satellite. Spacecraft Bus: Strela. Spacecraft: Zeya. Decay Date: 1999-10-25 . USAF Sat Cat: 24744 . COSPAR: 1997-010A. Apogee: 472 km (293 mi). Perigee: 460 km (280 mi). Inclination: 97.3000 deg. Period: 93.60 min.
---
---
Home - Search - Browse - Alphabetic Index: 0- 1- 2- 3- 4- 5- 6- 7- 8- 9
A- B- C- D- E- F- G- H- I- J- K- L- M- N- O- P- Q- R- S- T- U- V- W- X- Y- Z
---
© 1997-2017 Mark Wade - Contact
© / Conditions for Use
---