Encyclopedia Astronautica
Home - Search - Browse - Alphabetic Index: 0- 1- 2- 3- 4- 5- 6- 7- 8- 9
A- B- C- D- E- F- G- H- I- J- K- L- M- N- O- P- Q- R- S- T- U- V- W- X- Y- Z
---
---
Soyuz 7K-MF6
---
Part of Soyuz Family
---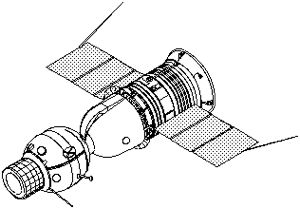 Soyuz 7K-MF6
Credit: © Mark Wade

Russian manned spacecraft. Soyuz 22. Soyuz 7K-T modified with installation of East German MF6 multispectral camera. Used for a unique solo Soyuz earth resources mission.

AKA: 7K-MF6. Status: Operational 1976. First Launch: 1976-09-15. Last Launch: 1976-09-15. Number: 1 . Thrust: 4.09 kN (919 lbf). Gross mass: 6,510 kg (14,350 lb). Unfuelled mass: 6,010 kg (13,240 lb). Specific impulse: 282 s. Height: 7.60 m (24.90 ft).

Crew Size: 2. Orbital Storage: 6.00 days. Habitable Volume: 9.00 m3. Spacecraft delta v: 220 m/s (720 ft/sec).

Family: Manned spacecraft, Surveillance orbit. Country: Russia. Engines: KTDU-35. Spacecraft: Soyuz 7K-MF6 SA, Soyuz 7K-MF6 BO, Soyuz 7K-MF6 PAO. Flights: Soyuz 22. Launch Vehicles: R-7, Soyuz-U. Propellants: Nitric acid/Hydrazine. Projects: ASTP. Launch Sites: Baikonur, Baikonur LC1. Agency: Korolev bureau, MOM. More at: 13124. Bibliography: 2, 21, 32, 33, 51, 6, 89.
---
Photo Gallery
---
---
Soyuz 22
Credit: Manufacturer Image
---
---
---
1976 September 15 - . 09:48 GMT - . Launch Site: Baikonur. Launch Complex: Baikonur LC1. LV Family: R-7. Launch Vehicle: Soyuz-U.
Soyuz 22 - . Call Sign: Yastreb (Hawk ). Crew: Aksyonov, Bykovsky. Backup Crew: Malyshev, Strekalov. Support Crew: Andreyev, Popov. Payload: Soyuz ASTP s/n 74 modified with MF6 camera. Mass: 6,510 kg (14,350 lb). Nation: Russia. Related Persons: Aksyonov, Andreyev, Bykovsky, Malyshev, Popov, Strekalov. Agency: MOM. Program: ASTP. Class: Manned. Type: Manned spacecraft. Flight: Soyuz 22. Spacecraft Bus: Soyuz. Spacecraft: Soyuz 7K-MF6. Duration: 7.91 days. Decay Date: 1976-09-23 . USAF Sat Cat: 9421 . COSPAR: 1976-093A. Apogee: 296 km (183 mi). Perigee: 185 km (114 mi). Inclination: 64.8000 deg. Period: 89.30 min.

Surplus Soyuz ASTP spacecraft modified with a multi-spectral camera manufactured by Carl Zeiss-Jena in place of the universal docking apparatus. Eight days were spent photographing the earth. Tested and perfected scientific-technical methods and devices for studying the geological characteristics of the earth's surface from outer space for economic purposes.
---
---
Home - Search - Browse - Alphabetic Index: 0- 1- 2- 3- 4- 5- 6- 7- 8- 9
A- B- C- D- E- F- G- H- I- J- K- L- M- N- O- P- Q- R- S- T- U- V- W- X- Y- Z
---
© 1997-2016 Mark Wade - Contact
© / Conditions for Use
---