Home - Search - Browse - Alphabetic Index: 0- 1- 2- 3- 4- 5- 6- 7- 8- 9
A- B- C- D- E- F- G- H- I- J- K- L- M- N- O- P- Q- R- S- T- U- V- W- X- Y- Z
---
Soyuz 16
---
Part of ASTP
---
---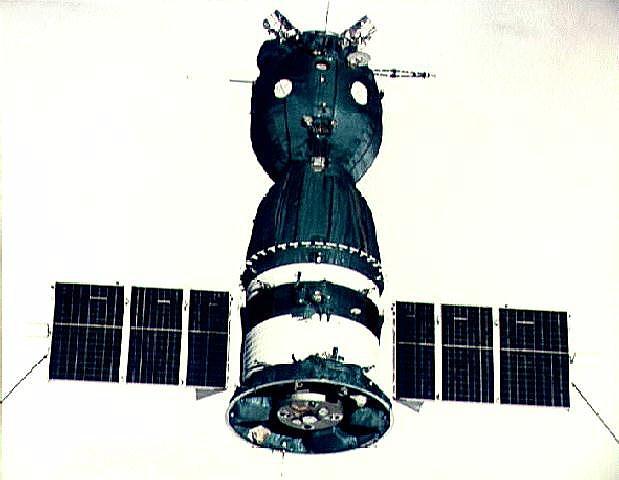 Soyuz ASTP in Orbit
Soyuz ASTP in Orbit 3
Credit: NASA
---
ASTP Manned Test Flight. Check-out of the Soyuz systems modified for Apollo-Soyuz docking in space.
AKA: Buran (Snowstorm). Launched: 1974-12-02. Returned: 1974-12-08. Number crew: 2 . Duration: 5.93 days.
ASTP Manned Test Flight. Check-out of the Soyuz space craft's on-board systems which had been modernized to meet the requirements of the 1975 joint flight in accordance with the program of the Soviet-United States experiment; conduct of scientific and technical investigations. Landed 30 km NE Arkalyk. Recovered December 8, 1974 8:04 GMT.
From: The Partnership: A History of the Apollo-Soyuz Test Project, by Edward Clinton Ezell and Linda Neuman Ezell, NASA History Series SP-4209, 1978.
Manned by the number two ASTP prime crew, Filipchenko and Rukavishnikov, this flight was a full dress rehearsal of the Soviet half of the joint mission. From the afternoon lift-off at 12:40 Moscow time on 2 December to the morning landing at 11:04 on the 8th, the flight of Soyuz was nearly perfect, and the results of the test of life support, docking, antenna deployment, and ground control systems were excellent. Shortly after launch, the Soviets had notified the Johnson Space Centre, so the Spaceflight Tracking Data Network could begin tracking the spaceship.
Lunney's team in Houston had known that the Soviets were planning a manned flight for the end of 1974. In fact, the Soviets had been prepared to give the Americans advance notice of the launch.
It was agreed that during the upcoming manned Soyuz flight which is a precursor test flight for the ASTP mission, the American side will perform Soyuz spacecraft tracking with their own ground tracking stations and the two sides will subsequently compare tracking data. The American side will be informed about the launch date and planned orbital parameters 5 days prior to launch. State vectors of the spacecraft will also be provided after insertion into orbit.
Subsequently, the Soviets added the restriction that this information would be given to NASA only if the agency agreed to withhold it from the press until the flight had actually begun. After lengthy discussions, which involved George Low, Glynn Lunney, Chet Lee, Arnold Frutkin, and John Donnelly, it was concluded that NASA's tracking Soyuz 16 could be considered a joint activity. To withhold details from the public concerning such an exercise would not be consistent with the agency's traditional practice of providing information. On 11 October, Lunney telexed Bushuyev:
"We appreciate Soviet desire to make own announcement of launch notice and launch. However, because of our own involvement in this activity, we would find ourselves in a difficult position if we could not report this information to our press. Therefore, we prefer to receive no information in this case until you have released it or we can release it. When we learn of the launch under these conditions we will initiate tracking activities. . . ."
At 6:35 Houston time on the morning of 2 December, V. A. Timchenko called JSC. The security guard who took the early morning call said that Mr. Lunney was not yet in his office. At the Soviets' request, the guard notified the US Technical Director that Moscow would be contacting him by telephone at 8:15. Less than two hours later, Timchenko and Lunney were talking about the mission manned by Filipchenko and Rukavishnikov. Lunney in turn advised the tracking team, giving them the data provided by Timchenko. These mathematical statements of the spacecraft's location and velocity at a given time would permit the tracking stations to follow its path, an exercise that was essential for the rendezvous part of the joint mission.
Bushuyev gave Lunney brief reports on this ASTP precursor flight during telecons on 3 and 8 December. Subsequently during the winter meetings in Houston, he provided full details of the Soyuz 16 mission to the American members of Working Group 4. On 31 January through his interpreter, Yu. S. Zonov, the Professor told Lunney that the flight had been a complete dress rehearsal for the Soviet portion of ASTP. The Soyuz spacecraft was identical to the one that would be flown in July, and the Soviets had designed the December flight plan to check out key parts of the ASTP plan. Of particular interest to the Americans were the reports provided by Bushuyev on the functional tests of the modified life support system.
Life Support System Operation Timeline
Checkout of ASTP Modifications to Spacecraft During Soyuz 16 Flight
Pre-launch preparations (Ground elapsed time (hr:min)Operation)
-3:30 Descent vehicle gas analyser, orbital module gas analyser, and pressure integrity check unit activation.

-2:30 Crew in pressure suits ingresses vehicle: Soyuz Commander connects his space suit to Orbital Module fan assembly, activates Orbital Module panel and space suit fan assembly , and begins pre-launch Orbital Module examination. Flight Engineer ingresses Descent Vehicle , connects his space suit to Descent Vehicle fan assembly, activates command signal device and space suit fan assembly, and begins pre-launch Descent Vehicle examination. Following examination, Soyuz Commander deactivates space suit fan assembly and Orbital Module panel, disconnects space suit from fan, transfers to Descent Vehicle , connects space suit to the Descent Vehicle fan assembly and activates it. Descent Vehicle oxygen generator activation.

-1:30 Begin status and operations check of Descent Vehicle systems. Close hatch 5. Close Orbital Module ingress hatch. Pressurise Orbital Module with 125 mm Hg of oxygen. Orbital Module pressure integrity by launch team.

-0:40 Begin space suit pressure integrity check.

-0:30 End space suit pressure integrity check.

-0:05 Lower space suit visors.

-0:00 Launch: December 2, 1974, 12:40 Moscow time.
Orbital flight (
Ground elapsed time (hr:min)
Operation)
0:14 Raise space suit visors.

0:16 Switch pressure integrity check unit to pressure leak monitor mode.

0:30 Remove space suit gloves.

0:49 End pressure integrity monitoring of modules. Activate gas mixture supply system automatic controls. Close "TANK" valves.

1:30 Activate Orbital Module oxygen generator. Equalise Descent Vehicle-Orbital Module pressure and open hatch 5. Descent Vehicle oxygen generator "OFF." Transfer to Orbital Module . Set Orbital Module pressure vent valve to "CLOSED" position. Descent Vehicle-Orbital Module pressure vent test. Remove space suits and begin drying.

5:00 End space suit drying.

6:43 to 8:28 Descent Vehicle-Orbital Module pressure vent to 540 mm Hg.

10:40 to 18:50 Sleep.

28:37 to 28:53 Corrective pressure vent from 540 to 510 mm Hg.

34:30 to 42:20 Sleep.

44:30 Open bypass valve (initiation thermal control system living module loop coolant flow through Apollo radio station transceiver mounting assembly).

48:00 Close bypass valve.

51:00 Orbital Module oxygen generator CO2 absorber on.

51:10 Don space suits.

51:30 Switch Orbital Module oxygen generator to minimum flow mode from Orbital Module panel. Transfer to Descent Vehicle and close hatch 5.

52:10 Open hatch 5.

52:50 Switch Orbital Module oxygen generator to automatic control mode and activate CO2 absorber.

53:25 Remove space suits, begin drying.

56:40 Stow space suits.

58:20 to 66:00 Sleep.

82:00 to 89:40 Sleep.

102:21 Descent Vehicle-Orbital Module pressurisation to 830 mm Hg.

104:00 Disconnect removable condensation collector, transfer it to Orbital Module , and connect Descent Vehicle collector.

105:50 to 113:25 Sleep.

119:20 Transfer to Descent Vehicle and close hatch 5. Jettison androgynous-peripheral docking system mock-up ring.

120:10 Open hatch 5.

123:30 Descent Vehicle-Orbital Module test pressure vent from 805 to 760 mm Hg.

130:00 Switch thermal control system external radiator loop external line coolant temperature setting from 7°C to 5°C.

130:00 to 137:00 Sleep.

137:00 Switch gas temperature setting at heat exchanger-condenser output from 20°C to 15°C.
Descent preparations and descent (
Ground elapsed time (hr:min)
Operation)
137:10 Set Orbital Module pressure vent valve handle to "ELECT CONTROL" position.

137:40 Don space suits.

138:10 Transfer to Descent Vehicle ; close hatch 5. Connect space suit to gas mixture supply system; activate space suit fan. Activate Descent Vehicle oxygen generator. Orbital Module pressure vent by 125 mm Hg. Monitor hatch 5 pressure integrity.

139:20 Monitor space suit pressure integrity.

141:41 Orbital Module pressure vent.

141:47 Lower visors.

141:53 Descent Vehicle-Orbital Module separation.

142:24 Landing: December 8, 1974, 11:04 Moscow time.
Bushuyev also called to Lunney's attention the fact that Soyuz 16 had been placed into an initial orbit different from the ASTP rendezvous orbit so that the Soviets could test the spacecraft's manoeuvrability. The Professor went on to provide the Americans with details regarding the docking system evaluation:
As I said before, for the imitation of the operation of docking assembly of the Apollo spacecraft, we made a special technological ring which corresponded to the docking ring of the American assembly. During the flight, we tested the following items: the opening and the closing of the [capture] latches. The retraction of the ring with the guides. The alignment of the ring. The opening of the [structural] latches. The closing of the latches. The undocking. The reserve opening of the active hooks. . . . During the process of opening the hooks and undocking, the movement of the hooks was done not to the end but to the position of intermediate. This was done specially so we could do the final separation of the ring with the help of the pyrotechnics [i.e., to test the emergency release system].
All the tests of the docking were carried out successfully with no problems.
Bushuyev was very confident that Soyuz was ready for the joint mission. After a nearly perfect flight by Soyuz 16, he had good reason to be optimistic. In fact, he commented that both Filipchenko and Rukavishnikov, veterans of earlier Soyuz flights, had indicated that all the changes incorporated into the spacecraft had made it a more flexible ship to fly. Filipchenko and Rukavishnikov spoke with the press on 13 December when the Soviets conducted a post-flight news conference, a check out of their public affairs procedures for ASTP. The two crewmen, plus Petrov, Beregovoy, Flight Director Shatalov, and Bushuyev, met with several hundred correspondents. Bob White, American Working Group 3 chairman in Moscow for the pre-flight tests of the docking systems, also attended. He noted that this was the first time the press had been able to directly ask questions of a Soviet crew after a mission and the first time most of them had been permitted to visit Star City where the press conference was held. The Soviets' optimism over Soyuz 16 was soon shared by Lunney, his Working Group chairmen, and the crews. Soyuz was ready; the Soviet reports, joint test data, and safety assessment reports proved it. This evaluation was presented to the US Aerospace Safety Advisory Panel (ASAP).
Maneuver Summary:
184 km X 291 km orbit to 182 km X 209 km orbit. Delta V: 24 m/s
182 km X 209 km orbit to 191 km X 257 km orbit. Delta V: 16 m/s
191 km X 257 km orbit to 219 km X 229 km orbit. Delta V: 16 m/s
219 km X 229 km orbit to 193 km X 215 km orbit. Delta V: 11 m/s
Total Delta V: 67 m/s
---
More at: Soyuz 16.
---
Family
:
Manned spaceflight
.
People
:
Filipchenko
,
Rukavishnikov
.
Country
:
Russia
.
Spacecraft
:
Soyuz 7K-TM
.
Projects
:
ASTP
.
Launch Sites
:
Baikonur
.
Agency
:
MOM
.
---
---
1974 December 2 -
. 09:40 GMT - .
Launch Site
:
Baikonur
.
Launch Complex
:
Baikonur LC1
.
LV Family
:
R-7
.
Launch Vehicle
:
Soyuz-U
.
---
1974 December 8 -
.
---
---
Back to top of page
---
Home - Search - Browse - Alphabetic Index: 0- 1- 2- 3- 4- 5- 6- 7- 8- 9
A- B- C- D- E- F- G- H- I- J- K- L- M- N- O- P- Q- R- S- T- U- V- W- X- Y- Z
---
© 1997-2019 Mark Wade - Contact
© / Conditions for Use
---