Home - Search - Browse - Alphabetic Index: 0- 1- 2- 3- 4- 5- 6- 7- 8- 9
A- B- C- D- E- F- G- H- I- J- K- L- M- N- O- P- Q- R- S- T- U- V- W- X- Y- Z
---
Multi-Role Recovery Capsule
---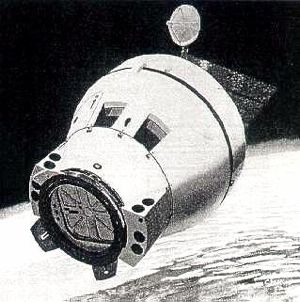 Multi-Role RC
Multi-Role Recovery Capsule - BAe,1987.
Credit: NASA via Marcus Lindroos
British manned spacecraft. Study 1987. Britain was the only European Space Agency member opposed to ESA's ambitious man-in-space plan, and the British conservative government refused to approve the November 1987 plan.
AKA: Manned Reusable Capsule;MRC. Status: Study 1987. Payload: 500 kg (1,100 lb). Thrust: 1.61 kN (361 lbf). Gross mass: 7,000 kg (15,400 lb). Unfuelled mass: 6,300 kg (13,800 lb). Specific impulse: 312 s. Height: 4.28 m (14.04 ft).
However, the British aerospace industry did propose some interesting alternatives, such as the $2-billion 'Multi-Role Recovery Capsule'.
British Aerospace Ltd. (BAe) regarded the French Hermes mini-Shuttle as too expensive and complicated. Instead, they felt a simple crew capsule would make more sense as an 8-man 'lifeboat' for Space Station Freedom (NASA issued a competitive request for proposals in late 1987). MRC was to be launched on the existing Ariane-40 rocket and the capsule could be flown manned or unmanned, for sensitive microgravity experiments in orbit.
Article by Marcus Lindroos
Unit Cost $: 183.000 million. Crew Size: 4. RCS total impulse: 2,142 kgf-sec. Spacecraft delta v: 157 m/s (515 ft/sec). Electric System: 84.00 kWh. Electric System: 0.70 average kW.
---
---
Family
:
Manned spacecraft
.
Country
:
UK
.
Spacecraft
:
MRC DM
,
MRC SM
.
Launch Vehicles
:
Ariane
,
Ariane 4
.
Propellants
:
N2O4/MMH
.
Agency
:
British Army
.
Bibliography
:
149
.
---
---
Back to top of page
---
Home - Search - Browse - Alphabetic Index: 0- 1- 2- 3- 4- 5- 6- 7- 8- 9
A- B- C- D- E- F- G- H- I- J- K- L- M- N- O- P- Q- R- S- T- U- V- W- X- Y- Z
---
© 1997-2019 Mark Wade - Contact
© / Conditions for Use
---