Home - Search - Browse - Alphabetic Index: 0- 1- 2- 3- 4- 5- 6- 7- 8- 9
A- B- C- D- E- F- G- H- I- J- K- L- M- N- O- P- Q- R- S- T- U- V- W- X- Y- Z
---
Magsat
---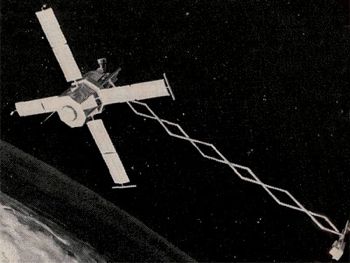 Magsat
Credit: Manufacturer Image
American earth magnetosphere satellite. Measured near-Earth magnetic field and crustal anomalies. Research satellite built by Johns Hopkins University Applied Physics Laboratory (APL) for NASA, USGS, USA. Launched 1979.
Status: Operational 1979. First Launch: 1979-10-30. Last Launch: 1979-10-30. Number: 1 . Gross mass: 181 kg (399 lb).
NASA NSSDC Master Catalog Description
The Magsat project was a joint NASA/United States Geological Survey (USGS) effort to measure near-earth magnetic fields on a global basis. Objectives included obtaining an accurate description of the earth's magnetic field, obtaining data for use in the update and refinement of world and regional magnetic charts, compilation of a global crustal magnetic anomaly map, and interpretation of that map in terms of geologic/geophysical models of the earth's crust. The spacecraft was launched into a low, near-polar, orbit by the Scout vehicle. The basic spacecraft was made up of two distinct parts: the instrument module that contained a vector and a scalar magnetometer and their unique supporting gear; and the base module that contained the necessary data-handling, power, communications, command, and attitude-control subsystems to support the instrument module. The base module complete with its subsystems was comprised of residual Small Astronomy Satellite (SAS-C) hardware. The magnetometers were deployed after launch to a position 6 m behind the spacecraft. At this distance, the influence of magnetic materials from the instrument and base module (chiefly from the star cameras) was less than 1 nT. Sixteen complete vector magnetic field measurements and eight scalar measurements were obtained every second.
---
More at: Magsat.
---
Family
:
Earth
,
Magnetosphere sat
.
Country
:
USA
.
Launch Vehicles
:
Scout
,
Scout G-1
.
Launch Sites
:
Vandenberg
,
Vandenberg SLC5
.
Agency
:
NASA
.
Bibliography
:
2
,
279
,
6
,
6670
,
12786
.
---
---
1979 October 30 -
. 14:16 GMT - .
Launch Site
:
Vandenberg
.
Launch Complex
:
Vandenberg SLC5
.
LV Family
:
Scout
.
Launch Vehicle
:
Scout G-1
.
Magsat - . Payload: AEM 3. Mass: 181 kg (399 lb). Nation: USA. Agency: NASA Greenbelt. Class: Earth. Type: Magnetosphere satellite. Spacecraft: Magsat. Decay Date: 1980-06-11 . USAF Sat Cat: 11604 . COSPAR: 1979-094A. Apogee: 561 km (348 mi). Perigee: 352 km (218 mi). Inclination: 96.80 deg. Period: 93.70 min. Measured near-Earth magnetic field and crustal anomalies. Spacecraft engaged in practical applications and uses of space technology such as weather or communication (US Cat C). .
---
---
Back to top of page
---
Home - Search - Browse - Alphabetic Index: 0- 1- 2- 3- 4- 5- 6- 7- 8- 9
A- B- C- D- E- F- G- H- I- J- K- L- M- N- O- P- Q- R- S- T- U- V- W- X- Y- Z
---
© 1997-2019 Mark Wade - Contact
© / Conditions for Use
---