Home - Search - Browse - Alphabetic Index: 0- 1- 2- 3- 4- 5- 6- 7- 8- 9
A- B- C- D- E- F- G- H- I- J- K- L- M- N- O- P- Q- R- S- T- U- V- W- X- Y- Z
---
Kondor
CLICK HERE FOR CURRENT AND MORE COMPLETE INFORMATION
ON THIS TOPIC AT OUR PARTNER SITE
---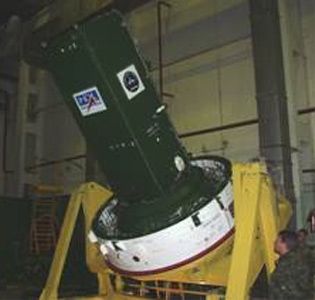 Payload Mockup
Credit: Manufacturer Image

Russian communications satellite. Study 1997. The Khrunichev State Space Research and Production Center (including the Salyut Design Bureau), proposed the Kondor communications system for mobile users.

Status: Operational 2013. First Launch: 2013-06-27. Last Launch: 2014-12-19. Number: 2 . Payload: 500 kg (1,100 lb). Gross mass: 2,600 kg (5,700 lb).

This 4-satellite system would be based on 2.5-2.6 metric ton spacecraft with 3.2 kW electrical power systems. The communications payload could have a mass of up to 500 kg and power of up to 1.5 kW. The transponders would be of the L-band and C-band types and INMARSAT-compatible. The L-band transponders would be high power (200-250 W) and be linked to two 6-m diameter antennas. A specific start date for Kondor operations was never given, but in 1994 initial activities were said to be possible during 1995-1997. No funding was forthcoming.

Electric System: 3.20 average kW.
---
More at: Kondor.
---
Family: Communications, Earth, Surveillance. Country: Russia. Launch Vehicles: UR-100N, Strela launch vehicle. Launch Sites: Baikonur LC175/2. Agency: Chelomei bureau. Bibliography: 6635, 12741, 12742.
---
Photo Gallery
---
---
Kondor-E No. 2
Credit: Manufacturer Image
---
---
---
Home - Search - Browse - Alphabetic Index: 0- 1- 2- 3- 4- 5- 6- 7- 8- 9
A- B- C- D- E- F- G- H- I- J- K- L- M- N- O- P- Q- R- S- T- U- V- W- X- Y- Z
---
© 1997-2017 Mark Wade - Contact
© / Conditions for Use
---