Home - Search - Browse - Alphabetic Index: 0- 1- 2- 3- 4- 5- 6- 7- 8- 9
A- B- C- D- E- F- G- H- I- J- K- L- M- N- O- P- Q- R- S- T- U- V- W- X- Y- Z
---
Jason
---
Part of Proteus Family
---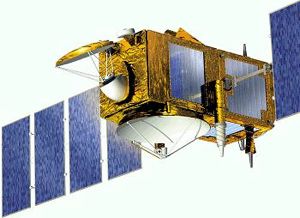 Jason

French earth sea satellite. Jason was a joint mission between CNES (the French space agency) and NASA/JPL, carrying the same type of sea surface altimeter used on NASA's Topex satellite. Altimetry, Radar satellite built by Alcatel Space for NASA, CNES, France. Launched 2001. Used the Proteus Bus bus.

AKA: TPFO. Status: Operational 2001. First Launch: 2001-12-07. Last Launch: 2001-12-07. Number: 1 . Gross mass: 485 kg (1,069 lb).

The Poseidon-2 altimeter, the mission's main instrument measured range from the satellite to the ocean below. The JMR radiometer measured perturbations to this measurement due to atmospheric water vapor; and three location systems: Doris (Doppler), LRA (laser) and TRSR (GPS), provided extremely precise and redundant location information for the satellite itself.. These instruments provided full redundancy and measurements for at least three years.

In 1996 CNES (the French space agency) began development of the Proteus mini-satellite bus (Plateforme Reconfigurable pour l'Observation, les TÚlÚcommunications et les Usages scientifiques). The bus was designed to support payloads for 500 to 700 kg class observation, telecommunications, or scientific satellites for a nominal three-year service life. The main objective was to reduce the cost of the access to space. Aerospatiale Alcatel Cannes was selected as the contractor for the bus and the associated command control ground segment. Jason was the first use of this bus.
---
More at: Jason.
---
Family: Earth, Earth seasat. Country: France. Launch Vehicles: Thor, Delta, Delta 7920-10, Delta 7320-10. Launch Sites: Vandenberg, Vandenberg SLC2W. Bibliography: 2, 296, 3817, 3818, 552, 554, 12701.
---
Photo Gallery
---
---
Jason 1
Credit: Manufacturer Image
---
---
Jason-CS
Credit: Manufacturer Image
---
---
---
2001 December 7 - . 15:07 GMT - . Launch Site: Vandenberg. Launch Complex: Vandenberg SLC2W. LV Family: Thor. Launch Vehicle: Delta 7920-10.
Jason 1 - . Payload: TPFO. Mass: 485 kg (1,069 lb). Nation: France. Agency: CNES, NASA. Manufacturer: Cannes. Class: Earth. Type: Ionosphere satellite. Spacecraft Bus: Proteus. Spacecraft: Jason. USAF Sat Cat: 26997 . COSPAR: 2001-055A. Apogee: 1,344 km (835 mi). Perigee: 1,332 km (827 mi). Inclination: 66.1000 deg. Period: 112.40 min.

Oceanography satellite, launch delayed from August 10 and September 15. Jason 1 was a joint mission between CNES (the French space agency) and NASA/JPL, following on the Topex satellite which carried the Poseidon sea surface altimeter. Jason carried Poseidon 2, as well as orbital tracking experiments and a microwave radiometer which measured the amount of water vapor, allowing path delay errors to be calibrated. The satellite used the Alcatel Proteus bus and had a dry mass of 472 kg plus 28 kg of hydrazine propellant. The JASON/TIMED mission's Boeing Delta 7920-10C second stage reached an initial orbit of 215 x 1343 km x 66.2 deg at 1517 GMT. A second burn at 1559 GMT circularized at apogee to 1320 x 1330 km x 66.0 deg, and the Jason 1 satellite was ejected at 1602 GMT.
---
---
Home - Search - Browse - Alphabetic Index: 0- 1- 2- 3- 4- 5- 6- 7- 8- 9
A- B- C- D- E- F- G- H- I- J- K- L- M- N- O- P- Q- R- S- T- U- V- W- X- Y- Z
---
© 1997-2017 Mark Wade - Contact
© / Conditions for Use
---