Home - Search - Browse - Alphabetic Index: 0- 1- 2- 3- 4- 5- 6- 7- 8- 9
A- B- C- D- E- F- G- H- I- J- K- L- M- N- O- P- Q- R- S- T- U- V- W- X- Y- Z
---
Gemini Paraglider
---
Part of Gemini Family
---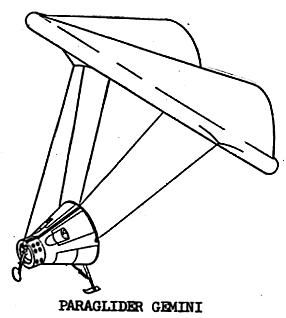 Gemini Paraglider
Credit: McDonnell Douglas

American manned spacecraft. The paraglider was supposed to be used in the original Gemini program but delays in getting the wing to deploy reliably resulted in it not being flown.

Status: Flown 1963. Thrust: 706 N (158 lbf). Gross mass: 3,800 kg (8,300 lb). Unfuelled mass: 3,345 kg (7,374 lb). Specific impulse: 273 s. Height: 5.67 m (18.60 ft).

McDonnell proposed that additional Gemini missions be flown to fully test the paraglider, which was planned for the follow-on Big Gemini.

Crew Size: 2. Habitable Volume: 2.55 m3. RCS total impulse: 1,170 kgf-sec. Spacecraft delta v: 323 m/s (1,059 ft/sec). Electric System: 151.00 kWh. Electric System: 2.16 average kW.
---
---
Family: Manned spacecraft. People: McDonnell. Country: USA. Launch Vehicles: Titan. Propellants: N2O4/MMH. Agency: NASA. Bibliography: 208, 4917, 4918.
---
Photo Gallery
---
---
Gemini Variants
Modest modifications of Gemini proposed by McDonnell Douglas as a follow-on to the basic program (927 x 723 pixel version).
Credit: McDonnell Douglas
---
---
---
Home - Search - Browse - Alphabetic Index: 0- 1- 2- 3- 4- 5- 6- 7- 8- 9
A- B- C- D- E- F- G- H- I- J- K- L- M- N- O- P- Q- R- S- T- U- V- W- X- Y- Z
---
© 1997-2017 Mark Wade - Contact
© / Conditions for Use
---