Home - Search - Browse - Alphabetic Index: 0- 1- 2- 3- 4- 5- 6- 7- 8- 9
A- B- C- D- E- F- G- H- I- J- K- L- M- N- O- P- Q- R- S- T- U- V- W- X- Y- Z
---
ChubuSat
CLICK HERE FOR CURRENT AND MORE COMPLETE INFORMATION
ON THIS TOPIC AT OUR PARTNER SITE
---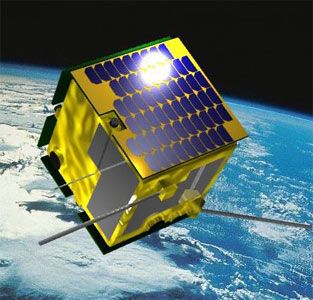 Kinshachi-1
Credit: Manufacturer Image

A project of Nagoya and Daido universities. (The name Kinschachi refers to the golden sea-monster statues on Nagoya castle). It carries d 10m resolution, 14 km swath imager, a 130 m resolution, 7-13 micron infrared camera reported to be for atmosphere temperature profiles and space debris monitoring, and an amateur radio relay payload. Sun synchronous orbit; 1055 GMT local time of the descending node. Technology satellite for Nagoya University, Daido University, Japan. Launched 2016.

AKA: Kinshachi. Status: Operational 2014. First Launch: 2014-11-06. Last Launch: 2014-11-06. Number: 1 . Gross mass: 50 kg (110 lb). Apogee: 537 km (333 mi).
---
More at: ChubuSat.
---
Subtopics
---
---
---
Family: Surveillance. Country: Japan. Launch Vehicles: Dnepr. Launch Sites: Dombarovskiy.
---
---
Home - Search - Browse - Alphabetic Index: 0- 1- 2- 3- 4- 5- 6- 7- 8- 9
A- B- C- D- E- F- G- H- I- J- K- L- M- N- O- P- Q- R- S- T- U- V- W- X- Y- Z
---
© 1997-2017 Mark Wade - Contact
© / Conditions for Use
---