Home - Search - Browse - Alphabetic Index: 0- 1- 2- 3- 4- 5- 6- 7- 8- 9
A- B- C- D- E- F- G- H- I- J- K- L- M- N- O- P- Q- R- S- T- U- V- W- X- Y- Z
---
Atlas Target Docking Adapter
---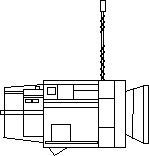 Atlas ATDA
Credit: © Mark Wade

American logistics spacecraft. Gemini 9 ATDA. An unpowered Gemini docking collar less the Agena rocket stage, launched one time by an Atlas when the Agena stage was not available. Fairing separation failed. Docking Target satellite built by McDonnell for NASA, USA. Launched 1966.

AKA: TDA. Status: Operational 1966. First Launch: 1966-06-01. Last Launch: 1966-06-01. Number: 1 . Gross mass: 794 kg (1,750 lb).
---
More at: Atlas Target Docking Adapter.
---
Family: Logistics spacecraft. Country: USA. Spacecraft: Gemini. Launch Vehicles: Atlas, Atlas SLV-3. Launch Sites: Cape Canaveral, Cape Canaveral LC14. Agency: NASA. Bibliography: 2, 26, 278, 6.
---
Photo Gallery
---
---
Gemini 9 ATDA
Credit: Manufacturer Image
---
---
---
1965 August 19-24 - .
Lockheed conducted shroud separation tests at its Rye Canyon Research Center. - . Nation: USA. Spacecraft: Atlas Target Docking Adapter. Tests comprised four separations at simulated altitudes, all sucessful. After test data had been analyzed, the shroud was judged to be flightworthy..
---
1966 January 21 - .
McDonnell completed final assembly of the augmented target docking adapter (ATDA). Voltage Standing Wave Ratio Tests were conducted January 21 and 22. - . Nation: USA. Spacecraft: Atlas Target Docking Adapter. Systems Assurance Tests were completed January 25, vibration tests January 27. Simulated flight and phasing tests were conducted January 30-February 1. The ATDA was shipped to Cape Kennedy February 4..
---
1966 June 1 - . 15:00 GMT - . Launch Site: Cape Canaveral. Launch Complex: Cape Canaveral LC14. LV Family: Atlas. Launch Vehicle: Atlas SLV-3.
Gemini 9 ATDA - . Payload: TDA 4. Mass: 794 kg (1,750 lb). Nation: USA. Agency: NASA Houston. Program: Gemini. Class: Manned. Type: Manned logistics spacecraft. Flight: Gemini 9. Spacecraft: Atlas Target Docking Adapter. Decay Date: 1966-06-11 . USAF Sat Cat: 2186 . COSPAR: 1966-046A. Apogee: 296 km (183 mi). Perigee: 292 km (181 mi). Inclination: 28.8000 deg. Period: 90.40 min.

The first and only Atlas/Augmented Target Docking Adapter (ATDA) Gemini Agena (#5304) was launched from the Eastern Test Range as part of the Gemini 9 mission. The ATDA was a back-up for the Gemini Agena Target Vehicle (GATV) and similar to it except that it lacked the capability to maneuver in space. The ATDA achieved a near-circular orbit (apogee 161.5, perigee 158.5 nautical miles). One hour and 40 minutes later, the scheduled launch of Gemini IX-A was postponed by a ground equipment failure which prevented the transfer of updating information from Cape Kennedy mission control center to the spacecraft computer. The mission was recycled for launch on June 3, following a prepared 48-hour recycle plan. Anomalous telemetry indicated some sort of problem with the target, but it was not until Gemini IX rendezvoused with it in orbit that it was seen that fairing separation had failed.
---
---
Home - Search - Browse - Alphabetic Index: 0- 1- 2- 3- 4- 5- 6- 7- 8- 9
A- B- C- D- E- F- G- H- I- J- K- L- M- N- O- P- Q- R- S- T- U- V- W- X- Y- Z
---
© 1997-2017 Mark Wade - Contact
© / Conditions for Use
---