Home - Search - Browse - Alphabetic Index: 0- 1- 2- 3- 4- 5- 6- 7- 8- 9
A- B- C- D- E- F- G- H- I- J- K- L- M- N- O- P- Q- R- S- T- U- V- W- X- Y- Z
---
Astrofizika
---
Part of Meteor Family
---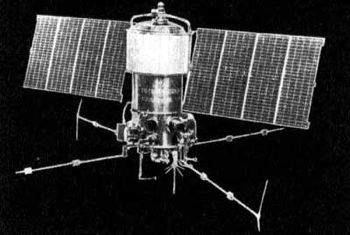 Intercosmos 22
Credit: Manufacturer Image

Russian earth geodetic satellite. Cosmos 1066. Based on the Meteor-1 bus but carried special optical instruments for the observation of lasers on Earth. Technology satellite built by VNIIEM, International. Launched 1978. Used Meteor Bus.

AKA: 11F653. Status: Operational 1978. First Launch: 1978-12-23. Last Launch: 1978-12-23. Number: 1 . Gross mass: 2,750 kg (6,060 lb).

The craft carried an SPD-50 electric thruster like those on Meteor-Priroda to allow its orbit to be adjusted to pass over the experiment sites. The satellite operated for two years. The detection of light sources from the ground was used by Astrofizika essentially as a navigation device, to give an accurate measurement of the ability of the ion engine to allow overflight of a precise location.
---
More at: Astrofizika.
---
Family: Astronomy, Earth geodetic sat, Medium earth orbit. Country: Russia. Engines: SPT-50. Launch Vehicles: R-7, Vostok 8A92M. Launch Sites: Plesetsk. Agency: MOM, Kozlov bureau. Bibliography: 102, 2, 6, 12120.
---
---
1978 December 23 - . 08:39 GMT - . Launch Site: Plesetsk. LV Family: R-7. Launch Vehicle: Vostok 8A92M.
Cosmos 1066 - . Payload: Astrofizika s/n 1. Mass: 2,750 kg (6,060 lb). Nation: Russia. Agency: MOM. Class: Astronomy. Type: X-ray astronomy satellite. Spacecraft Bus: Meteor. Spacecraft: Astrofizika. USAF Sat Cat: 11165 . COSPAR: 1978-121A. Apogee: 890 km (550 mi). Perigee: 819 km (508 mi). Inclination: 81.2000 deg. Period: 102.00 min. Probable failure. Investigation of the upper atmosphere and outer space. .
---
---
Home - Search - Browse - Alphabetic Index: 0- 1- 2- 3- 4- 5- 6- 7- 8- 9
A- B- C- D- E- F- G- H- I- J- K- L- M- N- O- P- Q- R- S- T- U- V- W- X- Y- Z
---
© 1997-2017 Mark Wade - Contact
© / Conditions for Use
---