Home - Search - Browse - Alphabetic Index: 0- 1- 2- 3- 4- 5- 6- 7- 8- 9
A- B- C- D- E- F- G- H- I- J- K- L- M- N- O- P- Q- R- S- T- U- V- W- X- Y- Z
---
Apollo LMAL
---
Part of Apollo CSM
---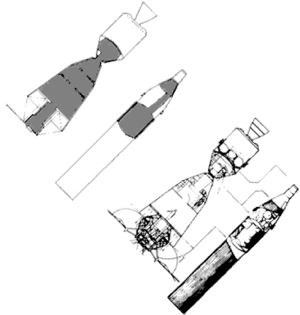 Apollo SLA Station
Apollo SLA Station compared to MOL
Credit: NASA
American manned space station. Study 1968.
AKA: Lunar Module Adapter Laboratory. Status: Study 1968.
This was one of 18 conceptual designs published 25 April 1968 for the Earth-orbital spacecraft lunar module adapter laboratory prepared by spacecraft design experts of the MSC Advanced Spacecraft Technology Division. The configuration was developed to illustrate the extent to which the building block philosophy could be carried. It would utilize both Gemini and Apollo spacecraft and would require 2 unmanned launches and 10 manned logistic launches. The report was published 25 April 1968.
---
---
Family
:
Space station
,
Space station orbit
,
USA - Space Stations
.
Country
:
USA
.
Launch Vehicles
:
Saturn V
.
Agency
:
NASA
,
NASA Huntsville
.
---
Photo Gallery
---
---
LAML Station
Credit: NASA
---
---
---
Back to top of page
---
Home - Search - Browse - Alphabetic Index: 0- 1- 2- 3- 4- 5- 6- 7- 8- 9
A- B- C- D- E- F- G- H- I- J- K- L- M- N- O- P- Q- R- S- T- U- V- W- X- Y- Z
---
© 1997-2019 Mark Wade - Contact
© / Conditions for Use
---