Home - Search - Browse - Alphabetic Index: 0- 1- 2- 3- 4- 5- 6- 7- 8- 9
A- B- C- D- E- F- G- H- I- J- K- L- M- N- O- P- Q- R- S- T- U- V- W- X- Y- Z
---
AERCam
---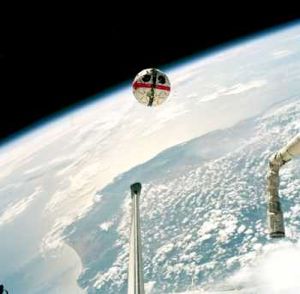 Aercam

American logistics spacecraft. Remotely guided maneuvering spacecraft to be released and later retrieved from Shuttle or ISS. Purpose: examination of external surface of space vehicles. Remote controlled inspector satellite built by NASA Johnson Space Center for NASA.

Status: Operational 1997. First Launch: 1997-11-19. Last Launch: 1997-11-19. Number: 2 . Gross mass: 17 kg (37 lb).
---
More at: AERCam.
---
Family: Logistics spacecraft. Country: USA. Launch Vehicles: Space Shuttle. Launch Sites: Cape Canaveral, Cape Canaveral LC39B. Agency: NASA Houston. Bibliography: 2, 279, 4.
---
Photo Gallery
---
---
AERCam-Sprint
Credit: Manufacturer Image
---
---
---
1997 November 19 - . Launch Site: Cape Canaveral. Launch Complex: Cape Canaveral LC39B. Launch Platform: MLP1. LV Family: Shuttle. Launch Vehicle: Space Shuttle.
AERCam-Sprint - . Payload: AERCam/SAFER. Nation: USA. Agency: NASA Houston. Manufacturer: Houston. Class: Manned. Type: Manned logistics spacecraft. Spacecraft: AERCam. COSPAR: 1997-073C. Retrieved by OV-102 Dec 3..
---
---
Home - Search - Browse - Alphabetic Index: 0- 1- 2- 3- 4- 5- 6- 7- 8- 9
A- B- C- D- E- F- G- H- I- J- K- L- M- N- O- P- Q- R- S- T- U- V- W- X- Y- Z
---
© 1997-2017 Mark Wade - Contact
© / Conditions for Use
---