Home - Search - Browse - Alphabetic Index: 0- 1- 2- 3- 4- 5- 6- 7- 8- 9
A- B- C- D- E- F- G- H- I- J- K- L- M- N- O- P- Q- R- S- T- U- V- W- X- Y- Z
---
TKS-1
---
Part of Almaz Family
---
---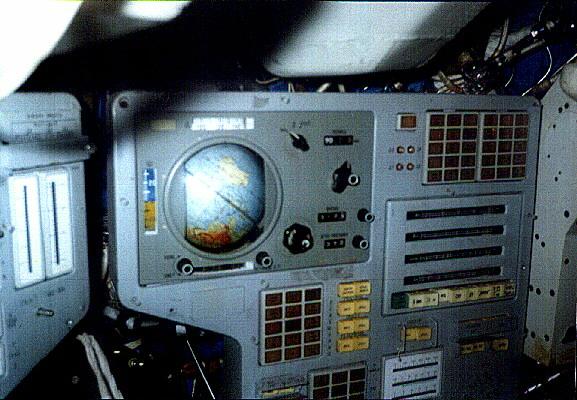 TKS capsule interior
The right control panel of the TKS. The earth globe instrument, also used in Vostok, Salyut, Almaz, and Soyuz, showed the crew at all times their position over the earth. It also allowed them to determine their landing site in the case of a manual re-entry or loss of communications with the ground.
Credit: © Mark Wade
---
Planned first test manned flight of the TKS large ferry craft. Would have docked with the Almaz OPS 4 military space station. Flight cancelled with the rest of the Almaz program in 1981. Flown later unmanned to Salyut 6 as Cosmos 1267.

Launched: 1981 Beginning of. Number crew: 3 .
---
More at: TKS-1.
---
People: Artyukhin, Glazkov, Makrushin, Kozelsky, Berezovoi, Romanov. Country: Russia.
---
---
1981 Beginning of - .
---
---
Home - Search - Browse - Alphabetic Index: 0- 1- 2- 3- 4- 5- 6- 7- 8- 9
A- B- C- D- E- F- G- H- I- J- K- L- M- N- O- P- Q- R- S- T- U- V- W- X- Y- Z
---
© 1997-2017 Mark Wade - Contact
© / Conditions for Use
---