Home - Search - Browse - Alphabetic Index: 0- 1- 2- 3- 4- 5- 6- 7- 8- 9
A- B- C- D- E- F- G- H- I- J- K- L- M- N- O- P- Q- R- S- T- U- V- W- X- Y- Z
---
TerraSAR-X
---
Part of Astrobus Family
---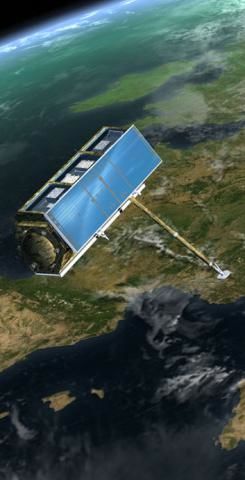 TerraSAR-X
Credit: DLR

German civilian surveillance radar satellite. Scientific / commercial surveillance satellite, equipped with an X-band synthetic aperture radar with 1 meter resolution SAR satellite built by EADS Astrium for DLR, InfoTerra, Germany. Launched 2007 - 2010. Used AstroBus.

AKA: Tandem. Status: Operational 2007. First Launch: 2007-06-15. Last Launch: 2010-06-21. Number: 2 . Payload: 394 kg (868 lb). Gross mass: 1,346 kg (2,967 lb). Height: 5.00 m (16.40 ft). Diameter: 2.30 m (7.50 ft).

TerraSAR-X was built per a March 2002 partnership whereby the Federal Republic of Germany, represented by the German Aerospace Center (DLR), and EADS Astrium GmbH agreed to jointly bear the costs of constructing and implementing this X-band radar satellite. EADS was responsible for the exclusive commercial exploitation of the satellite, while DLR coordinated the scientific use of the data. Total value of the program was approximately ? 130 million, of which DLR funded ? 102 million.

TerraSAR-X was a new generation, high resolution satellite operating in the X-band at 9.65 GHz. Priority observations of any site could be performed within three days. The satellite was based on the successful X-SAR/SIR-C and SRTM missions. The radar had the following operation modes:
Spotlight mode with 10 x 10 km scenes at a resolution of 1-2 meters
Strip-map mode with 30 km wide strips at a resolution between 3 and 6 meters
ScanSAR mode with 100 km wide strips at a resolution of 16 meters
TerraSAR-X also supported the reception of interferometric radar data for the generation of digital elevation models. Characteristics of the satellite were:
SAR antenna: 4.8 m x 0.80 x 0.15 m
Power consumption: 605 W
Data storage: 256 Gbit
Data transmission: 300 Mbit/s - X-band downlink
Orbit: 514 km / 98 deg inclination sun-synchronous
Revisit interval: 11 days
Life time: 5 years
Development Cost $: 190.000 million. Cost Notes: Euro 130 million.. Electric System: 0.61 average kW.
---
More at: TerraSAR-X.
---
Family: Civilian surveillance radarsat, Surveillance. Country: Germany. Launch Vehicles: R-36M 15A14, Dnepr. Launch Sites: Baikonur, Baikonur LC109. Agency: DLR, EADS Astrium. Bibliography: 2, 6978, 13270.
---
Photo Gallery
---
---
TerraSAR-L
Credit: Manufacturer Image
---
---
TerraSAR-X
Credit: Manufacturer Image
---
---
---
Home - Search - Browse - Alphabetic Index: 0- 1- 2- 3- 4- 5- 6- 7- 8- 9
A- B- C- D- E- F- G- H- I- J- K- L- M- N- O- P- Q- R- S- T- U- V- W- X- Y- Z
---
© 1997-2017 Mark Wade - Contact
© / Conditions for Use
---