Home - Search - Browse - Alphabetic Index: 0- 1- 2- 3- 4- 5- 6- 7- 8- 9
A- B- C- D- E- F- G- H- I- J- K- L- M- N- O- P- Q- R- S- T- U- V- W- X- Y- Z
---
Soyuz T-13A
---
Part of Salyut
---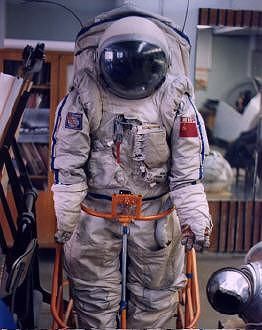 Spacesuit Orlan
Orlan space suit as used on Salyut 7 and Mir space stations.
Credit: Zvezda
Planned mission to operate military experiments aboard Salyut 7. Cancelled due to technical and personnel problems aboard station.
Launched: 1985 March. Number crew: 3 .
In 1982 a cosmonaut training group was formed again to perhaps fly the TKS and also to operate the military experiments aboard TKS-3 after it had docked with Salyut 7. This was changed to an unmanned launch of TKS-3 to be followed by delivery of three-man crews to Salyut to operate the military experiments aboard. Salyut 7 problems resulted in a complete breakdown of the TKS-3 plans. The first crew was bumped and instead a repair crew of Dzhanibekov and Savinykh was launched aboard Soyuz T-13 on 6 June 1985. This first 'TKS' crew was only completed with the launch to Salyut of Soyuz T-14 with Grechko, Vasyutin, and Volkov aboard on 17 September 1985. Grechko returned with Dzhanibekov aboard Soyuz T-13 on 26 September, clearing the aft port of Salyut for the TKS. For almost two months the crew of Vasyutin, Savinykh, and Volkov conducted military experiments. However Vasyutin became sick and the crew returned prematurely on 21 November 1985, leaving the station unmanned.
---
---
People
:
Savinykh
,
Aleksandrov
,
Viktorenko
,
Volkov, Aleksandr
,
Saley
,
Vasyutin
.
Spacecraft
:
Soyuz T
.
---
---
1985 March -
.
---
---
Back to top of page
---
Home - Search - Browse - Alphabetic Index: 0- 1- 2- 3- 4- 5- 6- 7- 8- 9
A- B- C- D- E- F- G- H- I- J- K- L- M- N- O- P- Q- R- S- T- U- V- W- X- Y- Z
---
© 1997-2019 Mark Wade - Contact
© / Conditions for Use
---