Home - Search - Browse - Alphabetic Index: 0- 1- 2- 3- 4- 5- 6- 7- 8- 9
A- B- C- D- E- F- G- H- I- J- K- L- M- N- O- P- Q- R- S- T- U- V- W- X- Y- Z
---
Snapshot
---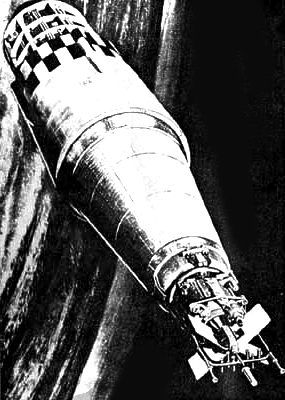 Snapshot
Credit: USAF

American ion engine technology satellite. Carried SNAP-9A nuclear power source. The on-board reactor provided electrical power for a 2.2-lb ion engine. Experimental satellite operated by US Air Force, USA. Launched 1965.

Status: Operational 1965. First Launch: 1965-04-03. Last Launch: 1965-04-03. Number: 1 . Gross mass: 440 kg (970 lb).
---
More at: Snapshot.
---
Family: Ion engine technology satellite, Medium earth orbit, Technology. Country: USA. Engines: Bell 8096. Launch Vehicles: Atlas, Atlas SLV-3 Agena D. Launch Sites: Vandenberg, Vandenberg SLC4E. Agency: USAF, US Army. Bibliography: 2, 278, 279, 6, 6890, 13111.
---
Photo Gallery
---
---
Snapshot
Credit: Manufacturer Image
---
---
---
1965 April 3 - . 21:24 GMT - . Launch Site: Vandenberg. Launch Complex: Vandenberg SLC4E. LV Family: Atlas. Launch Vehicle: Atlas SLV-3 Agena D.
Snapshot - . Payload: SNAP 10A / Agena D / OPS 4682. Mass: 440 kg (970 lb). Nation: USA. Agency: AEC, USAF. Class: Technology. Type: Ion engine technology satellite. Spacecraft: Snapshot. USAF Sat Cat: 1314 . COSPAR: 1965-027A. Apogee: 1,314 km (816 mi). Perigee: 1,270 km (780 mi). Inclination: 90.3000 deg. Period: 111.40 min.

The 6595th Aerospace Test Wing launched an Atlas/Agena which boosted the Atomic Energy Commission (AEC) Snapshot spacecraft into orbit carrying the SNAP-10A satellite nuclear power supply experiment. The onboard nuclear reactor was used to provide electric power for an ion engine, marking the first attempt to test a reactor-ion system in orbit. Only nuclear reactor ever orbited by the United States. The SNAP-10A reactor provided electrical power for an 8.5 mN ion engine using cesium propellant. The engine was shut off after one hour of operation when high-voltage spikes created electromagnetic interference with the satellite's attitude control system sensors. The reactor continued in operation, generating 39 kWt and more than 500 watts of electrical power for 43 days before the spacecraft telemetry failed.
---
---
Home - Search - Browse - Alphabetic Index: 0- 1- 2- 3- 4- 5- 6- 7- 8- 9
A- B- C- D- E- F- G- H- I- J- K- L- M- N- O- P- Q- R- S- T- U- V- W- X- Y- Z
---
© 1997-2017 Mark Wade - Contact
© / Conditions for Use
---