Home - Search - Browse - Alphabetic Index: 0- 1- 2- 3- 4- 5- 6- 7- 8- 9
A- B- C- D- E- F- G- H- I- J- K- L- M- N- O- P- Q- R- S- T- U- V- W- X- Y- Z
---
Schiaparelli, Giovanni
---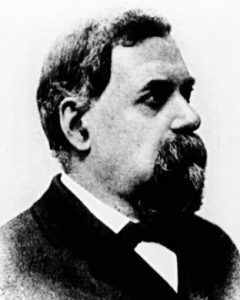 Schiaparelli
Credit: NASA
Italian astronomer, made observations in the 1860's of Martian canals; believed them to be artificial constructions and indicating intelligent life. Tremendously influenced the public and science fiction writers. Later shown to be an optical i
Born: 1835. Died: 1910-01-01.
Giovanni Schiaparelli was an Italian astronomer and senator of the Kingdom of Italy. He studied astronomy in Berlin beginning in 1854 under Johann F. Encke. Two years later he was appointed assistant observer at Pulkovo Observatory, Russia. In 1860 he returned to Italy as an observer at Brera Observatory in Milan. There he made controversial observations of Martian canali, or straight lines, that set off speculation about the possibility of intelligent life who had constructed them. He also discovered the asteroid Hesperia and correctly calculated the Perseid meteor showers.
---
---
Country
:
Italy
.
Bibliography
:
535
,
5975
.
---
---
1910 January 1 -
.
Death of Giovanni Schiaparelli. - . Related Persons: Schiaparelli. Italian astronomer, made observations in the 1860's of Martian canals; believed them to be artificial constructions and indicating intelligent life. Tremendously influenced the public and science fiction writers. Later shown to be an optical i.
---
2016 March 14 -
. 09:31 GMT - .
Launch Site
:
Baikonur
.
Launch Complex
:
Baikonur LC200/39
.
LV Family
:
Proton
.
Launch Vehicle
:
Proton-M/Briz-M
.
Schiaparelli - . Nation: Russia. Class: Mars. Type: Mars probe. Spacecraft: Schiaparelli. COSPAR: 2016-017. Apogee: -71,368 km (-71,368 mi). Perigee: 750 km (460 mi). Inclination: 51.50 deg.

The Schiaparelli EDM was the EDL Demonstrator Module, where EDL was "Entry, Descent and Landing". EDM consisted of an aeroshell containing the EDM Surface Platform (ESP, a triply-nested three-letter-acronym proving that ESA can compete with NASA in the TLA race). EDM attempted o land on the surface as a technology demonstration, and carried a small meteorology payload. The EDM separated from TGO three days before Mars arrival and entered the Martian atmosphere on a hyperbolic trajectory towards a landing site at 6.1W 1.9S in Meridiani Planum. After entry a parachute slowed the vehicle, the back cover and forward shield were jettisoned, and thrusters slowed the ESP further. The ESP underside consisted of a crushable structure to absorb impact with the surface. In the event, Schiaparelli approached on a 62 x -13982 km x 8.2 deg hyperbola and entered the Martian atmosphere at 1442 UTC at a speed of 5.86 km/s and an angle of -11.9 degrees. During descent, data was relayed to Mars orbiting spacecraft for later retransmission as well as sent on a live link picked up by the GMRT radio telescope near Pune, India.Schiaparelli survived the entry and deployed its parachute 4 minutes later at an altitude of 11 km. The heatshield was jettisoned 30 seconds later, and at 1447 UTC the parachute and attached backshell were separated at an altitude of 1.3 km over the Meridiani Planum landing site at 6.11W 2.07S. It appeared that the parachute / backshell separated 15 seconds earlier than expected. The thrusters fired for only 3 seconds, and the lander transitioned to landing mode while still well above the surface. A free fall of 19 seconds ensued, followed by a high speed (hundreds of km/hr) impact. At this point communications from the lander ceased. MRO imaged the EDM lander's impact scar at 6.11W 2.07S. The parachute was 0.16 km E 0.91km S of the lander.
---
---
Back to top of page
---
Home - Search - Browse - Alphabetic Index: 0- 1- 2- 3- 4- 5- 6- 7- 8- 9
A- B- C- D- E- F- G- H- I- J- K- L- M- N- O- P- Q- R- S- T- U- V- W- X- Y- Z
---
© 1997-2019 Mark Wade - Contact
© / Conditions for Use
---