Home - Search - Browse - Alphabetic Index: 0- 1- 2- 3- 4- 5- 6- 7- 8- 9
A- B- C- D- E- F- G- H- I- J- K- L- M- N- O- P- Q- R- S- T- U- V- W- X- Y- Z
---
SBD
---
Part of Microstar Family
---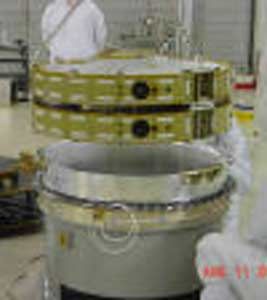 SBD
Credit: Manufacturer Image

American technology satellite. SBD, the Orbital Corporation Special Bus Design, was a 73 kg test version of an enlarged Microstar bus. Technology satellite for Orbital Sciences Corporation (OSC), USA. Launched 2001. Used the MicroStar (double) bus.

Status: Operational 2001. First Launch: 2001-09-21. Last Launch: 2001-09-21. Number: 1 . Gross mass: 73 kg (160 lb).
---
More at: SBD.
---
Family: Technology, Technology satellite. Country: USA. Launch Vehicles: Taurus, Taurus 2110. Launch Sites: Vandenberg, Vandenberg 576E. Agency: OSC. Bibliography: 2, 552, 554, 11742.
---
---
2001 September 21 - . 18:49 GMT - . Launch Site: Vandenberg. Launch Complex: Vandenberg 576E. LV Family: Taurus. Launch Vehicle: Taurus 2110. FAILURE: A problem a few seconds after first stage separation caused the rocket to go off course; it recovered and the remainder of the stages fired, but final cutoff velocity was too low to reach a sustainable orbit..
SBD - . Mass: 368 kg (811 lb). Nation: USA. Agency: Orbimage. Manufacturer: OSC. Class: Technology. Type: Navigation technology satellite. Spacecraft Bus: Microstar. Spacecraft: SBD. COSPAR: F010921C.

SBD, the Orbital Sciences' Special Bus Design. The 73 kg satellite was a test version of an enlarged Microstar bus. It would have remained attached to the third stage, together with two Celestis burial canisters containing cremated human remains, and an experimental third stage avionics box.
---
---
Home - Search - Browse - Alphabetic Index: 0- 1- 2- 3- 4- 5- 6- 7- 8- 9
A- B- C- D- E- F- G- H- I- J- K- L- M- N- O- P- Q- R- S- T- U- V- W- X- Y- Z
---
© 1997-2017 Mark Wade - Contact
© / Conditions for Use
---