Home - Search - Browse - Alphabetic Index: 0- 1- 2- 3- 4- 5- 6- 7- 8- 9
A- B- C- D- E- F- G- H- I- J- K- L- M- N- O- P- Q- R- S- T- U- V- W- X- Y- Z
---
SAGE
---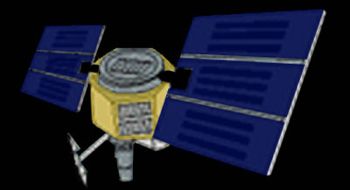 SAGE
Credit: Manufacturer Image

American earth atmosphere satellite. Studied dust, liquid droplets in upper atmosphere. Research satellite operated by NASA, USA. Launched 1979.

Status: Operational 1979. First Launch: 1979-02-18. Last Launch: 1979-02-18. Number: 1 . Gross mass: 147 kg (324 lb).

NASA NSSDC Master Catalog Description

The Stratospheric Aerosol and Gas Experiment (SAGE) spacecraft was the second of the Applications Explorer Missions (AEM). The small, versatile, low-cost spacecraft was made of two distinct parts: (1) the SAGE instrument module containing the detectors and the associated hardware, and (2) the base module containing the necessary data handling, power, communications, command, and attitude control subsystem to support the instrument mode. The objective of the SAGE mission was to obtain stratospheric aerosol and ozone data on a global scale for a better understanding of the earth's environmental quality and radiation budget. The spacecraft was designed for a 1-year life in orbit. The spacecraft experienced power problems after May 15, 1979. Spacecraft operations continued until November 19, 1981. The signal from the spacecraft was last received on January 7, 1982, when the battery failed. For more detailed information, see "Satellite studies of the stratospheric aerosol" by M. P. McCormick, et al., Bull. Am. Meteorol. Soc., v. 60, pp. 1038-1046, 1979.
---
More at: SAGE.
---
Subtopics
---
| | |
| --- | --- |
| | SAGE 3 Earth Science satellite operated by, USA. Launched 2017. |
---
Family: Atmosphere sat, Earth. Country: USA. Launch Vehicles: Scout, Scout D-1, Scout D. Launch Sites: Wallops Island, Wallops Island LA3A. Agency: NASA. Bibliography: 2, 279, 6, 13048.
---
---
1979 February 18 - . 16:18 GMT - . Launch Site: Wallops Island. Launch Complex: Wallops Island LA3A. LV Family: Scout. Launch Vehicle: Scout D-1.
SAGE - . Payload: AEM 2. Mass: 147 kg (324 lb). Nation: USA. Agency: NASA Greenbelt. Class: Earth. Type: Atmosphere satellite. Spacecraft: SAGE. Decay Date: 1989-04-11 . USAF Sat Cat: 11270 . COSPAR: 1979-013A. Apogee: 506 km (314 mi). Perigee: 456 km (283 mi). Inclination: 55.0000 deg. Period: 94.20 min. Studied dust, liquid droplets in upper atmosphere. Spacecraft engaged in practical applications and uses of space technology such as weather or communication (US Cat C). .
---
---
Home - Search - Browse - Alphabetic Index: 0- 1- 2- 3- 4- 5- 6- 7- 8- 9
A- B- C- D- E- F- G- H- I- J- K- L- M- N- O- P- Q- R- S- T- U- V- W- X- Y- Z
---
© 1997-2017 Mark Wade - Contact
© / Conditions for Use
---