Home - Search - Browse - Alphabetic Index: 0- 1- 2- 3- 4- 5- 6- 7- 8- 9
A- B- C- D- E- F- G- H- I- J- K- L- M- N- O- P- Q- R- S- T- U- V- W- X- Y- Z
---
RD-8
---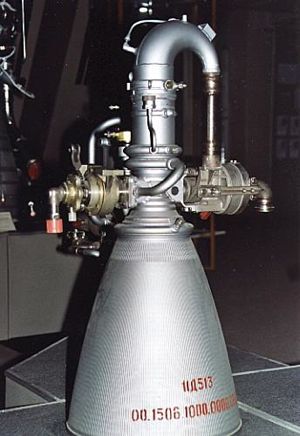 11D513
Credit: © Dietrich Haeseler

Yuzhnoye LOx/Kerosene rocket engine. Zenit stage 2 attitude control engine. In Production. Four-chamber pump-fed single-run engine operated in a staged combustion scheme with afterburning of the generator gas. Development began in 1976.

AKA: 11D513. Status: In Production. Date: 1976-85. Thrust: 78.40 kN (17,625 lbf). Unfuelled mass: 380 kg (830 lb). Specific impulse: 342 s. Burn time: 1,100 s. Height: 1.67 m (5.47 ft). Diameter: 4.00 m (13.10 ft).

The RD-8 was designed from the beginning for high reliability (no less than 0.995%) long service life (more than 4000 seconds); and for installation in the upper stage after a factory firing test without the need for post -test refurbishment. A safe shutdown was commanded upon depletion of any propellant component. The propellants were ignited in the gas generator and chambers by use of a starting fuel. The control units were fed with helium through electropneumatic valves. The engine could stay ready on the pad, filled with propellants, for 24 hours before a launch would need to be scrubbed and the engine purged and recycled. The engine design of the engine allowed for multiple bench firing tests.

Chambers: 4. Engine: 380 kg (830 lb). Chamber Pressure: 76.50 bar. Thrust to Weight Ratio: 21.03. Oxidizer to Fuel Ratio: 2.4.
---
---
Subtopics
---
| | |
| --- | --- |
| | RD-802 Yuzhnoye LOx/Kerosene rocket engine. Upper stages. Design concept 2007. Derivative of the RD-8 Zenit-2 second stage vernier thrust engine combustion chamber for use in launch vehicle upper stages. |
---
| | |
| --- | --- |
| | RD-809 Yuzhnoye LOx/Kerosene rocket engine. Upper stages. 2007 design concept for a four-chamber restartable main engine for launch vehicle upper stages. |
---
Country: Ukraine. Launch Vehicles: Zenit-2. Propellants: Lox/Kerosene. Agency: Yuzhnoye. Bibliography: 348, 357, 4477.
---
---
Home - Search - Browse - Alphabetic Index: 0- 1- 2- 3- 4- 5- 6- 7- 8- 9
A- B- C- D- E- F- G- H- I- J- K- L- M- N- O- P- Q- R- S- T- U- V- W- X- Y- Z
---
© 1997-2017 Mark Wade - Contact
© / Conditions for Use
---