Home - Search - Browse - Alphabetic Index: 0- 1- 2- 3- 4- 5- 6- 7- 8- 9
A- B- C- D- E- F- G- H- I- J- K- L- M- N- O- P- Q- R- S- T- U- V- W- X- Y- Z
---
RD-809
---
Part of RD-8
---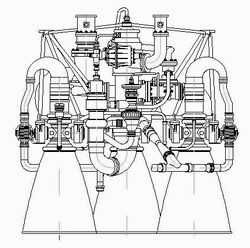 RD-809
Credit: Yuzhnoye
Yuzhnoye LOx/Kerosene rocket engine. Upper stages. 2007 design concept for a four-chamber restartable main engine for launch vehicle upper stages.
Status: Design concept 2007. Thrust: 88.00 kN (19,783 lbf). Specific impulse: 345 s. Burn time: 4,000 s. Height: 1.67 m (5.47 ft).
The engine was evidently a restartable version of the RD-8 Zenit-2 second stage vernier engine assembly and had the following features:
Long service life (4000 seconds, five restarts)
Designed for installation in the upper stage after a factory firing test without the need for post -test refurbishment
Stage flight control is effected by gimballing each combustion chamber ±10% in one plane.
All four-chambers pump-fed using a combustion scheme with oxidizer-rich gas feeding the turbopumps.
Turbine rotor spun-up by a pneumatic starter
Propellants in the combustion chamber and gas generator ignited by dedicated startup fuel
Pneumatic gimbal units used helium gas delivered via electric-pneumatic valves
Single-mode engine providing constant thrust and propellant mixture ratio within ±4.5% / ±8.
Pressure sensors provide data for automatic startup and shutdown of engine
Chambers: 4. Chamber Pressure: 87.75 bar. Oxidizer to Fuel Ratio: 2.5. Restarts: 6.
---
---
Country
:
Ukraine
.
Propellants
:
Lox/Kerosene
.
Agency
:
Yuzhnoye
.
Bibliography
:
4477
.
---
---
Back to top of page
---
Home - Search - Browse - Alphabetic Index: 0- 1- 2- 3- 4- 5- 6- 7- 8- 9
A- B- C- D- E- F- G- H- I- J- K- L- M- N- O- P- Q- R- S- T- U- V- W- X- Y- Z
---
© 1997-2019 Mark Wade - Contact
© / Conditions for Use
---