Home - Search - Browse - Alphabetic Index: 0- 1- 2- 3- 4- 5- 6- 7- 8- 9
A- B- C- D- E- F- G- H- I- J- K- L- M- N- O- P- Q- R- S- T- U- V- W- X- Y- Z
---
R-14U
---
Part of R-14 Family
---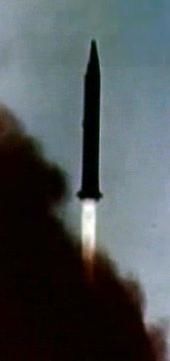 R-14
Credit: Ukrainian Space Agency

Russian intermediate range ballistic missile. Universal version, for pad-launch or from silo complex 'Chusovaya'.

AKA: 8K65U;Chusovaya;Skean;SS-5 Mod 2. Status: Retired 1969. First Launch: 1962-01-11. Last Launch: 1969-07-18. Number: 3 . Thrust: 1,480.00 kN (332,710 lbf). Gross mass: 86,400 kg (190,400 lb). Height: 24.40 m (80.00 ft). Diameter: 2.40 m (7.80 ft). Apogee: 676 km (420 mi).

Development of the modernized R-14U (universal) version, which could also be launched from 'Chusovaya' complex silos, was authorized on 30 May 1960. The authority to design the silo was issued two weeks later. The first test launch from a surface pad was conducted on 12 January 1962, followed by a series of launches from the silos from 11 February 1962 to October 1963.

In the silo-launched version, each regiment consisted of two divisions, each division being a single emplacement with a technical point and three silos. The launch complex was designed by TsKB TM under the direction of Nikolai Krivoshein. The hardened command and control technical point was modified from that for the R-12U, with each silo placed at least 100 m from the other about the technical point. Each silo was 30 m deep, had an inner diameter of 4.0 to 4.5 m, and was hardened to withstand overpressures of 2 kg/cm2. The silo design was accepted for military service on 15 June 1963.

The first R-14U silo division became operational at Priekule, Latvia in 1964. Further complexes were at Nerchinsk and Yasnaya in the far east, Dzhambul in Kazakhstan, Glukhov and Belokorovichi in the Ukraine, and Karmelaya in Lithuania. By 1965 a total of 97 R-14 and R-14U test or operational verification launches had been conducted, and around 100 mobile and silo launchers were operational.

The R-14U, in mixed deployment with mobile launchers, was retired in the late 1970's.

Maximum range: 4,000 km (2,400 mi). Initial Operational Capability: 1960.
---
---
Family: IRBM. Country: Russia. Launch Sites: Kapustin Yar, Plesetsk, Kapustin Yar silo, Plesetsk LC131, Kapustin Yar V-2. Stages: Kosmos-1. Agency: AKO Polyot.
---
---
1962 January 11 - . Launch Site: Kapustin Yar. Launch Complex: Kapustin Yar V-2. LV Family: R-14. Launch Vehicle: R-14U.
---
1962 February 11 - . Launch Site: Kapustin Yar. Launch Complex: Kapustin Yar silo. LV Family: R-14. Launch Vehicle: R-14U.
---
1969 July 18 - . Launch Site: Plesetsk. Launch Complex: Plesetsk LC131. Launch Pad: LC131/1. LV Family: R-14. Launch Vehicle: R-14U.
---
---
Home - Search - Browse - Alphabetic Index: 0- 1- 2- 3- 4- 5- 6- 7- 8- 9
A- B- C- D- E- F- G- H- I- J- K- L- M- N- O- P- Q- R- S- T- U- V- W- X- Y- Z
---
© 1997-2017 Mark Wade - Contact
© / Conditions for Use
---