Home - Search - Browse - Alphabetic Index: 0- 1- 2- 3- 4- 5- 6- 7- 8- 9
A- B- C- D- E- F- G- H- I- J- K- L- M- N- O- P- Q- R- S- T- U- V- W- X- Y- Z
---
Persona
---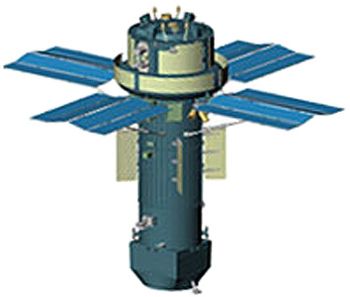 Cosmos 2441
Credit: Manufacturer Image

Russian sun-synchronous orbit electro-optical reconnaissance satellite first flown in 2008. Reports also gave the code name Kvarts; and it was said to utilize a LOMO-built 17V321 optical system originally developed for the Arkon satellite. There were reports that a a Yantar-derived service module was used, but an illustration published in a Russian military document showed a satellite with a new service module and cruciform solar arrays. The first Persona satellite was launched in July 2008; it reportedly malfunctioned in February 2009 due to an electronics failure. The second was not launched until June 2013. It was said to be delayed because compenents had to be cannibalized from a Resurs-P 1 satellite.This spacecraft also failed after a short time in orbit, necessitating to bring the old film-return Kobalt-M satellites into service to bridge the gap. Reconnaissance, optical satellite built by TsSKB-Progress (bus), LOMO (payload) for VKS > VKO, Russia. Launched 2008 - 2015.

Status: Operational 2008. First Launch: 2008-07-26. Last Launch: 2015-06-23. Number: 3 . Gross mass: 7,000 kg (15,400 lb).
---
More at: Persona.
---
Family: Surveillance. Country: Russia. Launch Vehicles: R-7, Soyuz-2-1B. Launch Sites: Plesetsk LC43/4, Plesetsk LC43. Bibliography: 6776, 12948.
---
---
Home - Search - Browse - Alphabetic Index: 0- 1- 2- 3- 4- 5- 6- 7- 8- 9
A- B- C- D- E- F- G- H- I- J- K- L- M- N- O- P- Q- R- S- T- U- V- W- X- Y- Z
---
© 1997-2017 Mark Wade - Contact
© / Conditions for Use
---