Home - Search - Browse - Alphabetic Index: 0- 1- 2- 3- 4- 5- 6- 7- 8- 9
A- B- C- D- E- F- G- H- I- J- K- L- M- N- O- P- Q- R- S- T- U- V- W- X- Y- Z
---
Overberg
---
---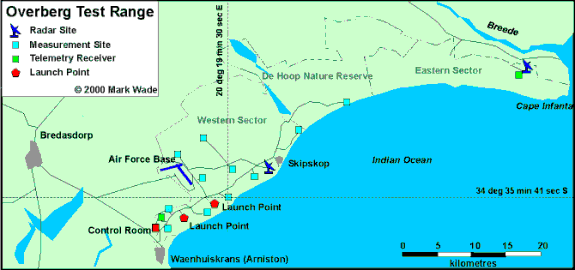 Overberg Test Range
Credit: © Mark Wade
---
The Overberg Test Range (OTR) was developed by the Houwteq organization in the 1980's as part of South Africa's ballistic missile and R5b space program. It was located at the southernmost tip of Africa on the south-eastern coast of the Western Cape at Latitude 34 deg 35 min S and Longitude 20 deg 19 min E. The facility had a total area of 43,000 hectares.

AKA: Arniston;OTR. First Launch: 1989-07-06. Last Launch: 1990-11-19. Number: 2 . Location: Arniston, Waenhuiskrans, Western Cape. Longitude: 20.3025 deg. Latitude: -34.6027 deg.

The launch sites were located on the coast just north-east of Waenhuiskrans, while the launch vehicle and payload assembly facilities were located at an adjacent air base. This 600 ha site included a dual-runway airfield capable of landing 747-sized jets and the infrastructure necessary to test and assemble launch vehicles.

The OTR site also included tracking stations, thermal vacuum chambers for equipment testing, insulated hangars for rocket firing tests, computer facilities, and the necessary equipment for integration of low orbit satellite launches. Cape Town, one of the major cities in South Africa, was located 200 km from OTR and provided a commercial airport capable of handling large airliners. A good quality highway ran between Cape Town and OTR. The Overberg facility was capable of supporting up to 10 launches a year.

Houwteq's complement at Overberg peaked at 500 in the early 1990s. The military program was cancelled in 1992, followed by the space program a year later. By 1997 the staff was down to 28. Only three known launches were made from the site in 1989 to 1990.

Minimum Inclination: 37.0 degrees. Maximum Inclination: 100.0 degrees.
---
---
Family: Orbital Launch Site. Country: South Africa. Launch Vehicles: RSA-3. Bibliography: 2, 580.
---
Photo Gallery
---
---
Overberg
Location of Overberg
Credit: © Mark Wade
---
---
| | |
| --- | --- |
| | RSA-3 - launch photo |
---
---
---
1989 July 6 - . Launch Site: Overberg. LV Family: Jericho. Launch Vehicle: RSA-3.
---
1990 November 19 - . Launch Site: Overberg. LV Family: Jericho. Launch Vehicle: RSA-3.
---
---
Home - Search - Browse - Alphabetic Index: 0- 1- 2- 3- 4- 5- 6- 7- 8- 9
A- B- C- D- E- F- G- H- I- J- K- L- M- N- O- P- Q- R- S- T- U- V- W- X- Y- Z
---
© 1997-2017 Mark Wade - Contact
© / Conditions for Use
---