Encyclopedia Astronautica
Home - Search - Browse - Alphabetic Index: 0- 1- 2- 3- 4- 5- 6- 7- 8- 9
A- B- C- D- E- F- G- H- I- J- K- L- M- N- O- P- Q- R- S- T- U- V- W- X- Y- Z
---
---
N1 1962 - A
---
Part of N1 Block A Family
---
---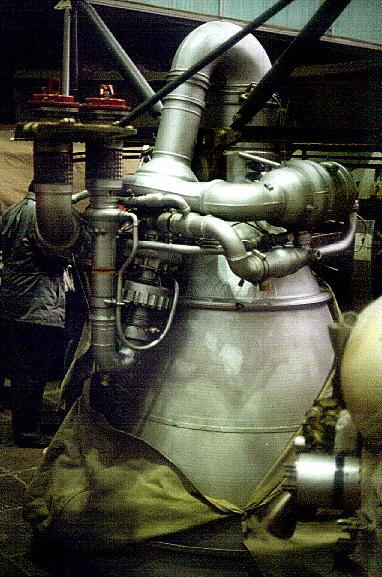 NK-15 / 11D51
NK-15 / 11D51 rocket engine for first stage of N1
Credit: © Mark Wade
---
LOx/Kerosene propellant rocket stage. Earlier design for the Block A. Includes 14,000 kg for Stage 1-2 interstage and payload fairing. Compared to total fuelled mass excludes 15,000 kg propellant expended in thrust build-up and boil-off prior to liftoff. Values as in draft project as defended on 2-16 July 1962.

Status: Study 1963. Thrust: 39,420.00 kN (8,861,960 lbf). Gross mass: 1,384,000 kg (3,051,000 lb). Unfuelled mass: 117,000 kg (257,000 lb). Specific impulse: 331 s. Specific impulse sea level: 296 s. Burn time: 103 s. Height: 30.00 m (98.00 ft). Diameter: 10.00 m (32.00 ft). Span: 17.00 m (55.00 ft).

No Engines: 24.

Country: Russia. Engines: NK-15. Launch Vehicles: N1 Nuclear A, N1 Nuclear V-B, N1 Nuclear AF, N1 Nuclear V, N1 1962. Propellants: Lox/Kerosene.
---
Photo Gallery
---
---
NK15 engine
NK-15 / 11D51 rocket engine for first stage of N1
Credit: © Mark Wade
---
---
---
Home - Search - Browse - Alphabetic Index: 0- 1- 2- 3- 4- 5- 6- 7- 8- 9
A- B- C- D- E- F- G- H- I- J- K- L- M- N- O- P- Q- R- S- T- U- V- W- X- Y- Z
---
© 1997-2016 Mark Wade - Contact
© / Conditions for Use
---