Home - Search - Browse - Alphabetic Index: 0- 1- 2- 3- 4- 5- 6- 7- 8- 9
A- B- C- D- E- F- G- H- I- J- K- L- M- N- O- P- Q- R- S- T- U- V- W- X- Y- Z
---
LESA Shelter
---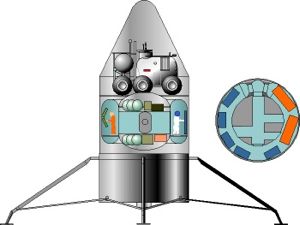 LESA Shelter
Credit: © Mark Wade
American manned lunar habitat. Study 1966. LESA (Lunar Exploration System for Apollo) was an advanced lunar surface shelter.
AKA: Lunar Exploration System for Apollo. Status: Study 1966. Gross mass: 9,700 kg (21,300 lb). Height: 4.30 m (14.10 ft).
It would provide the maximum Saturn V-launched lunar base module by using a high efficiency LLV Lunar Landing Vehicle which used RL10 Lox/LH2 engines for the direct landing on the lunar surface. The LESA consisted of a circular inner cabin and annular outer cabin with control stations, bunks, and an airlock.
The LLV would deliver the LESA together with a Molab lunar rover on the surface of the moon. Crews to man the base would be landed in 3-man LM Taxis. The crews would use the LESA Shelter for quarters, and the pressurized Molab for mobility. Initially the shelter would be manned by 3 crew members for 90 days. Follow-on flights would build up the base to six residents for indefinite lunar operations.
Crew Size: 6. Habitable Volume: 80.00 m3.
---
---
Family
:
Lunar Habitats
,
Moon
.
Country
:
USA
.
Spacecraft
:
LESA Lunar Base
.
Launch Vehicles
:
Saturn V
.
Bibliography
:
200
,
201
,
202
,
203
,
204
,
26
,
367
.
---
Photo Gallery
---
---
LESA Lander
Credit: NASA
---
---
Lunar Exploration
Lunar Exploration Plans
Credit: © Mark Wade
---
---
Post-Apollo lunar
Comparison of American post-Apollo lunar spacecraft.
Credit: © Mark Wade
---
---
LESA Lunar Base
Credit: © Mark Wade
---
---
---
1969 September 1 -
.
Soviets study NASA's ambitious plans - . Nation: Russia. Spacecraft: LESA Shelter, LLV.

NASA gave the US President a 130-page programme outlining plans for America's future space programme. The thing read to the Soviets like a science fiction novel, with reusable space ferries, huge orbital stations and lunar bases, nuclear rocket stages, and manned Mars expeditions. There was no way the Soviet Union could compete with such a programme -- and that was leaving unconsidered the massive American military space progamme. Additional Details: here....
---
---
Back to top of page
---
Home - Search - Browse - Alphabetic Index: 0- 1- 2- 3- 4- 5- 6- 7- 8- 9
A- B- C- D- E- F- G- H- I- J- K- L- M- N- O- P- Q- R- S- T- U- V- W- X- Y- Z
---
© 1997-2019 Mark Wade - Contact
© / Conditions for Use
---