Home - Search - Browse - Alphabetic Index: 0- 1- 2- 3- 4- 5- 6- 7- 8- 9
A- B- C- D- E- F- G- H- I- J- K- L- M- N- O- P- Q- R- S- T- U- V- W- X- Y- Z
---
LLV
---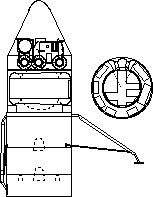 LLV - LRSA
LLV - LRSA 160 pixels
Credit: © Mark Wade
American lunar logistics spacecraft. Study 1966. Many versions of new Lunar Logistic Vehicles (LLV's) using several possible candidate propellants were studied by NASA and its contractors in the mid-1960's for post-Apollo lunar base support.
AKA: Lunar Landing Vehicle;Lunar Logistics Vehicle. Status: Study 1966. Payload: 13,700 kg (30,200 lb). Thrust: 131.21 kN (29,497 lbf). Gross mass: 41,000 kg (90,000 lb). Unfuelled mass: 17,500 kg (38,500 lb). Specific impulse: 444 s. Height: 7.90 m (25.90 ft). Span: 21.30 m (69.80 ft).
By the time budget cutbacks ended such thoughts, NASA was favoring a two-stage version powered by throttleable RL10 engines burning liquid oxygen/liquid hydrogen propellants.
Limiting the propellant candidates to those being used in active NASA programs (earth storables of the N204/Aerozine 50 and cryogens of the L0X/LH2 type), the choice revolved about a tradeoff between 33% better Isp performance, poorer length to diameter configurations, and more extensive ground support requirements of LOX/LH 2 compared to N204/Aerozine 50. However, the performance increase did provide significantly larger payload capabilities, and accordingly, the cryogenic combination was chosen by NASA for the new LLV's. In addition to the conventional one stage configurations, two stage versions were also of interest. A typical two stage LLV consisted of a braking stage (LI) and a landing stage (LII). The advantages of staging were (i) payload improvement, (2) the landed vehicle had a lower center-of-gravity (reducing possible cargo unloading problems and landing gear requirements), and (3) the braking stage (LI) could be a general use propulsion stage for integration into earth orbital or planetary programs (Multi-Mission Module Concept).
---
---
Family
:
Lunar Landers
,
Lunar logistics spacecraft
,
Moon
.
Country
:
USA
.
Spacecraft
:
LLV L-I
,
LLV L-II
,
LESA Lunar Base
.
Propellants
:
Lox/LH2
.
Bibliography
:
200
,
201
,
202
,
203
,
204
,
26
,
367
.
---
Photo Gallery
---
---
LLV-1
One-stage version of LLV
---
---
LLV-2
Two-stage version of LLV
---
---
LLV
Credit: © Mark Wade
---
---
LLV - LESA
Credit: © Mark Wade
---
---
LLV - LRSA
Credit: © Mark Wade
---
---
LLV 160 pixels
Credit: © Mark Wade
---
---
---
1969 September 1 -
.
Soviets study NASA's ambitious plans - . Nation: Russia. Spacecraft: LESA Shelter, LLV.

NASA gave the US President a 130-page programme outlining plans for America's future space programme. The thing read to the Soviets like a science fiction novel, with reusable space ferries, huge orbital stations and lunar bases, nuclear rocket stages, and manned Mars expeditions. There was no way the Soviet Union could compete with such a programme -- and that was leaving unconsidered the massive American military space progamme. Additional Details: here....
---
---
Back to top of page
---
Home - Search - Browse - Alphabetic Index: 0- 1- 2- 3- 4- 5- 6- 7- 8- 9
A- B- C- D- E- F- G- H- I- J- K- L- M- N- O- P- Q- R- S- T- U- V- W- X- Y- Z
---
© 1997-2019 Mark Wade - Contact
© / Conditions for Use
---