Home - Search - Browse - Alphabetic Index: 0- 1- 2- 3- 4- 5- 6- 7- 8- 9
A- B- C- D- E- F- G- H- I- J- K- L- M- N- O- P- Q- R- S- T- U- V- W- X- Y- Z
---
Kwangmyongsong
---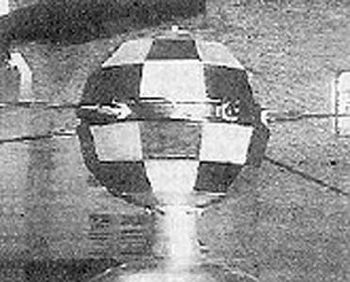 Kwangmyongsong 1
Credit: Manufacturer Image

North Korean communications technology satellite. Payload of the first attempted North Korean satellite launch. Earth observation, technology satellite, Korea North. Launched 2012.

Status: Operational 1998. First Launch: 1998-08-31. Last Launch: 2012-12-12. Number: 3 . Gross mass: 100 kg (220 lb).

In the first attempted North Korean satellite launch it was claimed that the Kwangmyongsong was placed in an orbit of 218.82 km perigee and 6,978.2 km apogee. The satellite was said to be equipped with 'necessary sounding instruments' and to 'contribute to promoting scientific research for peaceful use of outer space'. The satellite was 'transmitting the melody of the immortal revolutionary hymns 'Song of General Kim Il Sung' and 'Song of General Kim Jong Il' and the Morse signals 'Juche Korea' in 27 MHz'. Despite these explicit details no evidence could be uncovered by Western intelligence agencies that the spacecraft had actually reached orbit.

This announcement was followed on September 14 by the release of a photograph of the satellite and the claim that the satellite had completed its 100th orbit of the earth between 08:24 and 11:17 local time (2017 GMT) on September 13. Video of the launch, the satellite, and an animation of the satellite in orbit around the earth were distributed to foreign news agencies the following weekend. The satellite appeared almost identical to the first Chinese test satellite (which itself appeared almost identical to the US Telstar).
---
More at: Kwangmyongsong.
---
Subtopics
---
---
---
---
Family: Communications technology sat, Taepodong, Technology. Country: Korea North. Engines: Nodong. Launch Vehicles: Paektusan 1, Unha-3. Launch Sites: Gitdaeryung. Bibliography: 279, 284, 6644, 12749, 12750.
---
Photo Gallery
---
---
Kwangmyongsong-3
Credit: Manufacturer Image
---
---
Taepodong 1
North Korean first space launch vehicle.
---
---
---
Home - Search - Browse - Alphabetic Index: 0- 1- 2- 3- 4- 5- 6- 7- 8- 9
A- B- C- D- E- F- G- H- I- J- K- L- M- N- O- P- Q- R- S- T- U- V- W- X- Y- Z
---
© 1997-2017 Mark Wade - Contact
© / Conditions for Use
---