Home - Search - Browse - Alphabetic Index: 0- 1- 2- 3- 4- 5- 6- 7- 8- 9
A- B- C- D- E- F- G- H- I- J- K- L- M- N- O- P- Q- R- S- T- U- V- W- X- Y- Z
---
Geosat
---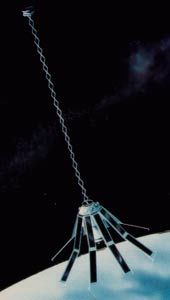 Geosat
Credit: Manufacturer Image

American earth resources radar satellite. Geosat was a US Navy satellite designed to measure sea surface heights to within 5 cm. Altimetry satellite built by Johns Hopkins University Applied Physics Laboratory (APL) for US Navy, USA. Launched 1985.

AKA: Geodetic Satellite. Status: Operational 1985. First Launch: 1985-03-13. Last Launch: 1985-03-13. Number: 1 . Gross mass: 635 kg (1,399 lb).

After a one-and-a-half year long classified mission for the Navy, Geosat's scientific Exact Repeat Mission (ERM) began on November 8, 1986. When the ERM ended in January 1990 (due to failures of both on-board tape recorders), more than three years of precise altimeter data were available to the scientific community. Spacecraft: Gravity gradient stabilized. Two tape recorders. Payload: Radar altimeter to measure sea surface height.
---
More at: Geosat.
---
Family: Earth, Earth resources radarsat, Medium earth orbit. Country: USA. Launch Vehicles: Atlas, Atlas E, Atlas E/OIS. Launch Sites: Vandenberg, Vandenberg SLC3W. Agency: APL, USN. Bibliography: 2, 278, 279, 6, 6522, 12491.
---
---
1985 March 13 - . 02:00 GMT - . Launch Site: Vandenberg. Launch Complex: Vandenberg SLC3W. LV Family: Atlas. Launch Vehicle: Atlas E/OIS.
Geosat - . Mass: 635 kg (1,399 lb). Nation: USA. Agency: USN. Class: Earth. Type: Earth resources radar satellite. Spacecraft: Geosat. USAF Sat Cat: 15595 . COSPAR: 1985-021A. Apogee: 779 km (484 mi). Perigee: 775 km (481 mi). Inclination: 108.1000 deg. Period: 100.40 min. Ocean sea height mapping. Spacecraft engaged in practical applications and uses of space technology such as weather or communication (US Cat C)..
---
---
Home - Search - Browse - Alphabetic Index: 0- 1- 2- 3- 4- 5- 6- 7- 8- 9
A- B- C- D- E- F- G- H- I- J- K- L- M- N- O- P- Q- R- S- T- U- V- W- X- Y- Z
---
© 1997-2017 Mark Wade - Contact
© / Conditions for Use
---