Home - Search - Browse - Alphabetic Index: 0- 1- 2- 3- 4- 5- 6- 7- 8- 9
A- B- C- D- E- F- G- H- I- J- K- L- M- N- O- P- Q- R- S- T- U- V- W- X- Y- Z
---
Gemini - Saturn I
---
Part of Gemini
---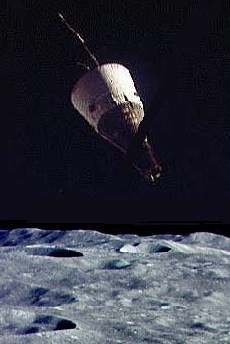 Gemini Lunar Flyby
American manned lunar flyby spacecraft. Study 1964. In the spring of 1964, with manned Apollo flights using the Saturn I having been cancelled, use of a Saturn I to launch a Gemini around the moon was studied.
Status: Study 1964.
This could either be flown in the long gap between the end of Gemini and the start of Apollo/Saturn IB flights, or as a contingency to beat the Russians around the moon if Apollo suffered severe delays. An Agena, Transtage, or Centaur upper stage would have been added to the Saturn I in order to boost Gemini to the moon. But Von Braun and others were not interested. They definitely did not want Congress getting wind of anything that could undermine support for Apollo. On June 8 NASA headquarters issued instructions that "any circumlunar mission studies related to the use of Gemini would be confined to in-house study efforts" and prohibiting issuance of contracts to McDonnell to pursue the matter.
Crew Size: 2. Habitable Volume: 2.55 m3.
---
---
Family
:
Lunar Flyby
,
Manned Circumlunar
,
Moon
.
People
:
McDonnell
.
Country
:
USA
.
Launch Vehicles
:
Saturn I
.
Agency
:
NASA
.
---
---
Back to top of page
---
Home - Search - Browse - Alphabetic Index: 0- 1- 2- 3- 4- 5- 6- 7- 8- 9
A- B- C- D- E- F- G- H- I- J- K- L- M- N- O- P- Q- R- S- T- U- V- W- X- Y- Z
---
© 1997-2019 Mark Wade - Contact
© / Conditions for Use
---