Home - Search - Browse - Alphabetic Index: 0- 1- 2- 3- 4- 5- 6- 7- 8- 9
A- B- C- D- E- F- G- H- I- J- K- L- M- N- O- P- Q- R- S- T- U- V- W- X- Y- Z
---
FY-2
---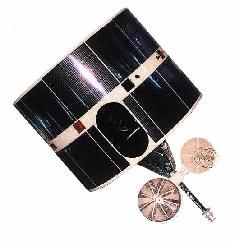 FY-2
Geosynchronous Chinese communications satellite.

Chinese earth weather satellite. The Feng Yun 2 spin-stabilized geosynchronous meteorological spacecraft was slightly more massive than China's DFH-2 communications satellite. Meteorology satellite operated by National Satellite Meteorological Centre, China. Launched 1997 - 2014.

Status: Operational 1997. First Launch: 1997-06-10. Last Launch: 2014-12-31. Number: 7 . Gross mass: 593 kg (1,307 lb). Height: 4.50 m (14.70 ft). Span: 2.10 m (6.80 ft).

The Feng Yun 2 spacecraft bus diameter was 2.1 m, and total height on-station was about 4.5 m. The major payload was a scanning radiometer with S-band and UHF data distribution. The two principal sensors were visible and infrared imaging instruments with best resolution of 1.25 km and 5.0 km respectively. A water vapor sensor was also carried.

The first Fen Yung 2 satellite was undergoing final checkout on 2 April 1994 before being mated to its launch vehicle when a fire and explosion erupted, destroying the vehicle, killing one worker and injuring 20 others. The operational satellites finally launched was stationed over 104.6E. China planned to put six meteorological satellites into orbit from 2002 to 2008 to offer comprehensive weather services for the 2008 Olympic Games. These included FY-2C in 2003 and FY-2D in 2006.
---
More at: FY-2.
---
Family: Earth, Earth weathersat, Geosynchronous orbit. Country: China. Launch Vehicles: Chang Zheng 3, Chang Zheng 3A. Launch Sites: Xichang, Xichang LC2, Xichang LC1. Agency: SARTI, China Aerospace. Bibliography: 119, 2, 4, 424, 530, 532, 552, 554, 12465.
---
Photo Gallery
---
---
| | |
| --- | --- |
| | FY-2 |
---
---
FY-2A
Credit: Manufacturer Image
---
---
FY-2B
Credit: via Chen Lan
---
---
---
Home - Search - Browse - Alphabetic Index: 0- 1- 2- 3- 4- 5- 6- 7- 8- 9
A- B- C- D- E- F- G- H- I- J- K- L- M- N- O- P- Q- R- S- T- U- V- W- X- Y- Z
---
© 1997-2017 Mark Wade - Contact
© / Conditions for Use
---