Home - Search - Browse - Alphabetic Index: 0- 1- 2- 3- 4- 5- 6- 7- 8- 9
A- B- C- D- E- F- G- H- I- J- K- L- M- N- O- P- Q- R- S- T- U- V- W- X- Y- Z
---
ETS-7
---
Part of ETS Family
---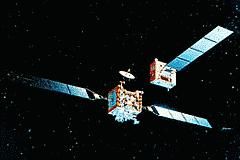 ETS-7
Credit: NASDA

Japanese rendezvous technology satellite. Hikoboshi. Technology satellite, to accomplish remote automatic rendezvous and docking. Technology satellite operated by NASDA, Japan. Launched 1997.

AKA: Hikoboshi. Status: Operational 1997. First Launch: 1997-11-27. Last Launch: 1997-11-27. Number: 1 .
---
More at: ETS-7.
---
Family: Medium earth orbit, Rendezvous technology satellite, Technology. Country: Japan. Launch Vehicles: H-II. Launch Sites: Tanegashima, Tanegashima Y. Agency: NASDA, Toshiba. Bibliography: 2, 4.
---
Photo Gallery
---
---
Orihime
Credit: Manufacturer Image
---
---
Hikoboshi - . Payload: ETS-7. Nation: Japan. Agency: NASDA. Manufacturer: Toshiba. Class: Technology. Type: Navigation technology satellite. Spacecraft Bus: ETS. Spacecraft: ETS-7. Decay Date: 2015-11-13 . USAF Sat Cat: 25064 . COSPAR: 1997-074B. Apogee: 548 km (340 mi). Perigee: 545 km (338 mi). Inclination: 35.0000 deg. Period: 95.50 min.

The Orihime and Hikoboshi satellites undocked and redocked on July 7 1998 in the FP-1 test of automated docking systems. Despite claims of the NASDA space agency that this is a first, automated Russian craft have docked on many occasions since the Kosmos-186/188 docking in 1968.
---
---
Home - Search - Browse - Alphabetic Index: 0- 1- 2- 3- 4- 5- 6- 7- 8- 9
A- B- C- D- E- F- G- H- I- J- K- L- M- N- O- P- Q- R- S- T- U- V- W- X- Y- Z
---
© 1997-2017 Mark Wade - Contact
© / Conditions for Use
---