Home - Search - Browse - Alphabetic Index: 0- 1- 2- 3- 4- 5- 6- 7- 8- 9
A- B- C- D- E- F- G- H- I- J- K- L- M- N- O- P- Q- R- S- T- U- V- W- X- Y- Z
---
DSCOVR
CLICK HERE FOR CURRENT AND MORE COMPLETE INFORMATION
ON THIS TOPIC AT OUR PARTNER SITE
---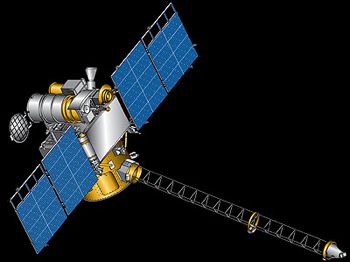 DSCOVR
Credit: Manufacturer Image

The Deep Space Climate Observatory was originally dubbed "Goresat" and launched after many years of political hold-ups, three presidential administrations after it was begun. Earth observing, solar science satellite built by Swales (Bus) for NASA, USA. Launched 2015. Used SMEX-Lite Bus.

Status: Operational 2015. First Launch: 2015-02-11. Last Launch: 2015-02-11. Number: 1 . Gross mass: 570 kg (1,250 lb).

Originally a NASA mission called Triana and centered around its Earth observation camera, it had at one point been scheduled for launch on the fatal STS-107 flight of Columbia, but was cancelled amid political controversy (it grew out of an idea by Vice-President Gore for whole-Earth imaging to raise eco-awareness) and placed in storage. The mission was reactivated as part of a NOAA (US National Oceanic and Atmospheric Administration) effort to monitor 'space weather', the flux of particles and radiation in the solar wind and its interaction with the Earth's outer atmosphere. DSCOVR 145 kg of hydrazine propellant, and was stationed at the Earth-Sun L1 point, 1.5 million km noonward from Earth. It carried a Faraday cup instrument to measure solar wind speed, an electron spectrometer and a magnetometer to measure local plasma and fields, a broad band (0.2 to 100 microns) radiometer to measure the Earth's total energy output, and the Earth Polychomatic Imaging Camera to return images of the full Earth disk. DSCOVR was launched into a 184 km x 186 km x 37 deg parking orbit; 30 minutes after launch the Falcon 9 second stage restarted to boost DSCOVR into a 187 km x 1,371,156 km x 37 deg transfer orbit. When the probe reached the L1 point it entered a Lissajous orbit, tracing out a complex pattern around the gravitationally stable balance point. Radius of this pattern was initially around 250,000 km.
---
More at: DSCOVR.
---
Family: Science. Country: USA. Launch Vehicles: Falcon 9 v1.1, Falcon 9. Launch Sites: Cape Canaveral LC40. Bibliography: 6460, 12253.
---
---
Home - Search - Browse - Alphabetic Index: 0- 1- 2- 3- 4- 5- 6- 7- 8- 9
A- B- C- D- E- F- G- H- I- J- K- L- M- N- O- P- Q- R- S- T- U- V- W- X- Y- Z
---
© 1997-2017 Mark Wade - Contact
© / Conditions for Use
---