Home - Search - Browse - Alphabetic Index: 0- 1- 2- 3- 4- 5- 6- 7- 8- 9
A- B- C- D- E- F- G- H- I- J- K- L- M- N- O- P- Q- R- S- T- U- V- W- X- Y- Z
---
DODGE
---
---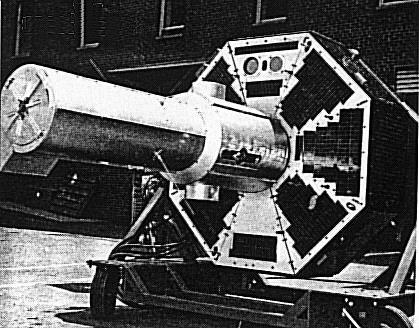 Dodge
Credit: USAF
---
American gravity gradient technology satellite. The Navy's 195 kg DODGE (Department Of Defense Gravity Experiment) satellite had the primary mission to explore gravity gradient stabilization at near synchronous altitude. Experimental satellite built by Johns Hopkins University Applied Physics Laboratory (APL) for, USA. Launched 1967.
Status: Operational 1967. First Launch: 1967-07-01. Last Launch: 1967-07-01. Number: 1 . Gross mass: 102 kg (224 lb).
It was launched successfully from Cape Kennedy on July 1, 1967, aboard a Titan III-C rocket. DODGE carried ten booms that were radio commanded to extend or retract along 3 different axes. Data from in-orbit experiments provided fundamental constants for use in controlling future high-altitude spacecraft. DODGE also carries a number of commandable magnetic damping devices and two television cameras to determine satellite alignment. One of the cameras also provided the first color pictures of the full Earth. One month after launch the satellite had been successfully stabilized and the television cameras were working as expected. Prime Contractor was the Johns Hopkins University Applied Physics Laboratory,
---
More at: DODGE.
---
Family
:
Geosynchronous orbit
,
Gravity gradient technology satellite
,
Technology
.
Country
:
USA
.
Launch Vehicles
:
Titan
,
Titan IIIC
.
Launch Sites
:
Cape Canaveral
,
Cape Canaveral LC41
.
Agency
:
APL
,
USAF
.
Bibliography
:
2
,
405
,
6
.
---
Photo Gallery
---
---
DODGE 1
Credit: Manufacturer Image
---
---
---
1967 July 1 -
. 13:15 GMT - .
Launch Site
:
Cape Canaveral
.
Launch Complex
:
Cape Canaveral LC41
.
LV Family
:
Titan
.
Launch Vehicle
:
Titan IIIC
.
DODGE 1 - . Mass: 102 kg (224 lb). Nation: USA. Agency: USN NASC. Class: Technology. Type: Gravity gradient technology satellite. Spacecraft: DODGE. USAF Sat Cat: 2867 . COSPAR: 1967-066F. Apogee: 33,670 km (20,920 mi). Perigee: 33,257 km (20,664 mi). Inclination: 12.00 deg. Period: 1,319.10 min.

A Titan IIIC booster (Vehicle #14) launched from Cape Canaveral placed a multiple payload of six satellites into orbit. Three of the satellites completed the Pacific link of the Initial Defense Satellite Communication System (IDSCS) program between Washington D.C., and South Vietnam. A fourth was a special communications satellite, the Despun Antenna Test Satellite (DATS), designed to test a despun antenna system for possible use on future communications satellites. DATS was designed to transmit 75 percent of radio signal strength to earth stations compared to the 15 percent for previous systems. Also included in the payload were a Defense Department Gravity Gradient Experiment (DODGE) satellite and a Lincoln Experimental Satellite, LES-5, the first all solid-state Ultra-high Frequency (UHF) band communication satellite intended to test communications with frontline troops. Gravity gradient experiments. Space craft engaged in investigation of spaceflight techniques and technology (US Cat A).
---
---
Back to top of page
---
Home - Search - Browse - Alphabetic Index: 0- 1- 2- 3- 4- 5- 6- 7- 8- 9
A- B- C- D- E- F- G- H- I- J- K- L- M- N- O- P- Q- R- S- T- U- V- W- X- Y- Z
---
© 1997-2019 Mark Wade - Contact
© / Conditions for Use
---